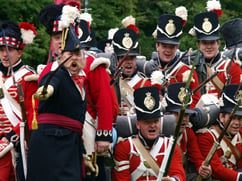 In just over 24 hours from now, over 60 delegates from 5 European countries and 40 corporate organisations, collectively responsible for over 9,000 end users of SAP BPC and BFC, will gather in London for our EMEA SAP EPM Leadership Summit. All these delegates have a common cause, to make sure their organisations deliver ever better value from their investments in SAP EPM; this is the largest gathering of the SAP EPM value liberation army in Europe this year, and it promises to deliver some famous victories!
Knowledge sharing is a key step in the journey of value liberation, and there will be presentations from three key European SAP EPM corporate users from the UK, Spain, and Denmark, to help open up the knowledge sharing dialogue. They will be talking about how they are getting value from the SAP EPM investments and the good and bad experiences they have had, helping others follow the route to deliver value and helping to avoid the common pitfalls.
A good army must also be equipped with the maximum available intelligence, and so the 14 sessions from deep experts in EPM processes and SAP EPM solutions will also equip the delegates with the latest intelligence available on best practice in EPM process design, how to better configure and use SAP EPM tools such as BPC and BFC, and how to optimise the technical infrastructure that supports their EPM solution.
"You may have won the battle, but you haven't won the war", so the saying goes, so our value liberation army will also be focusing on the long-term game that transforms tactical EPM implementation victories in their organisation into the delivery of a fully EPM-enabled and integrated organisation. They will understand how managed services and extended support for their SAP EPM solutions, combined with a continual program of education for SAP EPM end users, will sustain the army on its long march to victory. As Napoleon said "Victory belongs to the most persevering". It's no different if you want victory in your journey to EPM mastery.
An army needs great leadership and leaders need vision, so the final component delegates will benefit from is a comprehensive update on the SAP EPM roadmap from a SAP Centre of Excellence expert. This will clarify the SAP vision for EPM set out in the latest roadmap, and give everyone a clear sense of direction as to how SAP will develop their own solutions to help our clients win.
The response to our SAP EPM Summit program as it moves around the globe has been outstanding, and the London event has beaten all our expectations for engagement and enthusiasm for attending the event. It is clear that users want to meet, talk, knowledge share, and gain insights into the effective use of BPC and related SAP EPM products.
By the way, it is also just 24 hours until we commemorate one of Europe's great battles, that of Waterloo, where Napoleon finally met his nemesis. It's not too late to join our Summit on Thursday 18th June. If you want to register to attend just go to www.emeaepmsummit.com
David JH Jones
SAP EPM Value Liberation Warrior, 1st Class.
---
Related Blogs