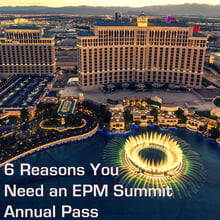 If you work in the SAP EPM space, an Annual Pass to the Column5's EPM Summit is your only option for getting the most up-to-date and in-depth learning experience. Column5's Annual Pass includes the EPM Summit Online (EPMSummit.TV), a virtual conference environment with three live events per year, a Mastering EPM Workshop, a specialized hands-on training course the day before our Summit, and the EPM Leadership Summit in-person event itself, our annual conference in Las Vegas. So why should you buy one of these passes? Here are some important reasons:
Access starts NOW!
You don't need to wait to start taking advantage of an Annual Pass. As soon as your registration is processed, you will receive your username and password to the EPM Summit Online, our virtual conference platform. We have already held three live events which are now on-demand, featuring over 40 hours of presentations. Explore the topics and learn about BPC at your convenience. Replay sessions as a reference when you need them. Plus, your subscription will include live access to three more virtual conferences (worth CPE credits): November 2015, May 2016, and July 2016.
The networking possibilities are endless.
The EPM Summit Online includes chats and private messages to connect with fellow BPC users. The EPM Leadership Summit is unparalleled for networking opportunities in the SAP EPM community. This is the largest in-person gathering of BPC professionals. The schedule is built to have networking events, and basically everyone attending will be a peer to discuss EPM with. Which leads to…
No sales focus means focus is on customer topics.
All of our attendees are SAP EPM customers, Column5 employees, and SAP employees. You will not meet sales people and consultants from other firms. This means that Column5 is free to share its knowledge openly, and you are free to share your thoughts without being preyed upon by pitchmen. At other conferences, where there are firms competing for your business, both customers and partners are often worried about revealing too much proprietary information. The EPM Summit is the complete opposite – we work hard to share everything you need to know!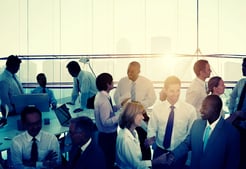 Learn directly from the experts.
As Column5 was started by former employees of OutlookSoft, the original developer of BPC, we truly have the most-knowledgeable staff. And they are all on-hand at the virtual and in-person events! Since it is a focused conference experience, there is plenty of time to schedule one-on-one meetings with our experts, and get to know the Column5 team. With some sessions presented from SAP as well, you can hear right from the source of the product.
Everything is specialized for you.
All of our events have three tracks of content: Functional, Technical, and Executive. You do not need to worry about getting stuck in a Microsoft focused session when you only work in NetWeaver - there are three options of sessions to choose from at any one time. We also feature case studies so you can learn from your peers; you can even apply to be a presenter and attend for free!
Prices rise on November 30, 2015!
Most importantly, don't pay more than you have to! Register by November 30 to take advantage of our Early Bird pricing. Head over to www.epmsummit.com for more information!
If you have any questions, please contact info@column5.com. We look forward to seeing you at our upcoming events!
Want more information? Check out our FAQ section.
---
Related Blogs