Recently I received a detailed critique of the underlying technology components of BPC in the form of a comment to one of my blog posts. At first, I chuckled at the response, and wanted to respond with a blog post entitled, "Things No CFO Said…Ever", but then I thought just how sadly prevalent some of the beliefs are in the EPM ecosystem.
I assume that you're reading this blog post because you're invested (or soon will be) in EPM. Since you know a lot about EPM, you might find this next statement shocking, but there's a burning need for some straight talk here. Technology has little to do with EPM success/failure. That's right. The product doesn't matter that much, and every truly qualified service professional knows it. The vast majority of products are suitable for the purpose they are commonly deployed for, when implemented properly. Where you will experience more or less success is most likely in the quality of the solution design, and how prepared you as a client organization are to manage and extend the solution internally.
If you need a visual, think about the market for golf clubs. A new driver using the latest technology might get rave reviews as being the "most forgiving" driver. That's right, forgiving. Forgiving of what, you might wonder. Well, it can only mean forgiving of making mistakes. Imperfections in your technique, your training, your skill…all can cost you in your performance. Yet, if you buy some special driver with an oversized head, is it going to compensate for your sloppy behavior and turn you from a "Shankapotamus" into Phil Mickelson? Don't bet on it. If that were actually possible, then there would be no need for golf lessons, or tournaments for that matter. Every golfer to pick up the right club would instantly be a scratch golfer and make the cut in a pro tournament with ease. Is that what's happening in the real world?
How can a skilled golfer with old clubs consistently outshoot a novice golfer with the latest clubs? Simple. Success is not about the clubs. It's not even mostly the clubs. As it is in golf, so it is in EPM. There's simply no substitute for skill, which can only be earned through proper training and honed by extensive experience.
This shouldn't come as a shock at all to anyone reading this…its common sense. Yet the PT Barnum in software sales rears his ugly head when he is shouting "Step right up, you NEED to own the latest technology"! Now, if you are new to an EPM solution, there is absolutely no reason to consider getting the latest technology for the best performance…furthermore hiring a consultant who argues technology is the most important decision is already leading you astray.
Having said that, really everything the person said in their response to my blog about BPC is inconsequential. It boils down to making rather obvious comments about last year's computer model, and while he doesn't specifically say it, making a case for the latest advancements. Who would make the case to buy a computer with old fashioned rotating hard drives when Solid State Drive (SSD) technology is becoming common place? On the other hand, just because SSD is a higher performance option, it doesn't mean your "old fashioned" computer without SSD ceases to deliver value.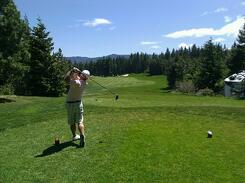 Large software vendors like SAP have made promises to the market that the largest enterprises have bet their businesses on. SAP will continue to invest in critical business solutions to incorporate the latest and greatest features into their newest products. Whether it is HTML5, 6 or HTML 200…when it makes sense to include it in their current offering, SAP will certainly do so. Columnar data storage, in-memory, mobility, cloud…whatever comes on the horizon, SAP will be there at the right time. CFOs all over the world can invest with confidence in a strong technology partner like SAP, and not be concerned about their technology suddenly becoming woefully obsolete under their nose.
By implementing the SAP BPC/EPM product suite, you are not only investing in a new set of clubs, you're also enabling the opportunity to develop an improved technique. The right partner can bring those components together to deliver significantly enhanced EPM value no matter what the flavor of the day is with regards to technology innovations.
---
Read more about best practices and case studies for a BPC/EPM Implementation!
Three Reasons You Will Be Happy Wth BPC
7 Deadly Sins of a BPC Implementation
Where Do You Go to Find Answers to Your BPC Questions?
SAP BPC: What is the Right Amount of Time for a Design?
Considerations in Upgrading to SAP BPC v10
---
Interested in learning more about BPC/EPM? Register for one of our free upcoming webcasts!