Column5 is pleased to be sponsoring the North American edition of the "Close Cycle Rankings 2014" in conjunction with our research partners EPM International. This research is now available to our clients.
For the last 10 years EPM International (EPMi) has compiled information from publicly available sources on the elapsed days taken to report Q4/year-end results and obtain the annual audit report sign-off for over 1,000 of the world's largest companies, including the New York Stock Exchange Top 100.
The research was initiated by our clients, who often ask how their external reporting timetables compare with their local stock market and global sector peers. They are still asking the same question today, but in greater numbers and across more markets. Column5 is proud to be sponsoring this research in 2014 and enhancing it with data for an additional 200 Canadian and US companies. For information about our sponsorship in this research please see our US and UK announcements!
Our clients use this research to stimulate discussion around fast close and the overall effectiveness of record to disclose (R2D) and other key financial processes within their organisations. It creates an excellent opportunity not only to discuss why a fast and efficient close matters but also how technology can help. Column5 and its EPMi Partners are experts in the key technologies that can support an efficient close including SAP Business Planning & Consolidation, Financial Integration Manager, Disclosure Management and Close Cockpit.

The Close Cycle Ranking research from EPMi is also featured in the recent SAP Press book "Accelerated Financial Closing with SAP", written by James Fisher, Elizabeth Milne and Birgit Starmanns which looks at how companies like SAP AG themselves have achieved excellence in the financial close process.
Why the Close Cycle Matters
We have been working as experts on EPM and the fast close in particular, for over twenty years and it is clear that the close cycle time is a key benchmark for the effectiveness of the finance function. Why? This is because speed of close is invariably symptomatic of the overall efficiency, effectiveness, and quality of the organisation's finance processes and systems.
Those organisations who consistently achieve excellence in terms of speed of reporting can only do so by ensuring they have effective and efficient finance processes and systems that record and report quality financial information across the whole accounting process. The year-end close cycle matters, in particular, not only because it can impact investor perception as to quality, efficiency, and transparency of company reporting but also because of the close correlation between the speed of year end external reporting and the speed of internal reporting used for decision making, analytics,insight and a solid platform for forward forecasting.
In broader finance benchmarks, if you are fast at external reporting, you are typically fast at internal reporting as well. For most of our clients, the highest priority is to improve internal reporting speed as it is the platform on which effective enterprise performance management and predictive capability is built. This is essential for maximising opportunities and rectifying issues as the velocity of business continues to accelerate. If this improvement can also drive acceleration of external reporting, then significant additional benefits can accrue in terms of investor perception and refocusing finance effort into value added analytics and business partnership rather than retrospective reporting of historic results.
Our work with and studies of organisations with consistently fast close highlights 10 Key common characteristics:
Focus on data quality, and have a culture and policies that promote it
Have standardised, integrated, repeatable processes (1 close process x12)
Have standardised and integrated corporate data models including chart of accounts
Exploit common ERP* , EPM** and GRC *** systems to automate processing, speed data flow and promote vertical and horizontal process integration (Management and Legal consolidation integration, ERP and Consolidation System integration)
Operate a single instance ERP solution in a shared service environment to maximise transaction processing effectiveness (not a prerequisite to fast close but a significant contributing factor)
Clear team and individual responsibility for quality, reconciliation, analysis & reporting across the end to end consolidation process tied to personal performance metrics
Will proactively train, coach and knowledge sharebest practices across the whole Record to Disclose (R2D) process
Have an end to end close process owner, which ensures the close is carefully planned, managed, monitored and measured from local entity sub-ledger close to disclosure of consolidated result
Have a disciplined approach to managing and controlling changes to the close process and policies and procedures are aligned and enforced
Focus on continual improvement, supported by executive level sponsorship from the CFO.
*ERP, Enterprise Resource Planning systems such as SAP ECC which maintain core accounting records
**EPM, Enterprise Performance Management systems such as SAP EPM(SAP Business Planning and Consolidation and associated SAP tools such as FIM, Inter Company Server, Disclosure Management and Close Cockpit Manager), which are used to support consolidation, reporting, planning, forecasting, analytics, disclosure management and close process management.
***GRC, Governance, Risk and Compliance, the processes and systems that ensure appropriate controls exist across the finance supply chain and that regulations such as Sarbanes Oxley are properly complied with.
An Introduction to the Close Cycle Ranking Tables
Below you will find an extract from the Global 100 detailed close cycle rankings for 2014, in this case the Top 30. These are ranked by the elapsed days taken to announce preliminary results to their respective stock exchange. The 2014 rankings cover year ends up to 31st December 2013 and therefore, the 2014 'reporting season'.
We also include information on the improvement or deterioration of speed to report, compared with the prior year. You will also see the same information and rankings for the time taken to obtain an audit signature on the year end result and associated timing compared with the prior year. We also hold data by industry sector and geography to facilitate peer group comparisons.
We have a wealth of data which can be analysed by market, sector and sub-sector over at least a 10 year period. For those who wish to understand performance in more detail, we would welcome requests for further company specific analysis. Contact Column5 if you would like 2014 analysis to help in developing a discussion about the fast close.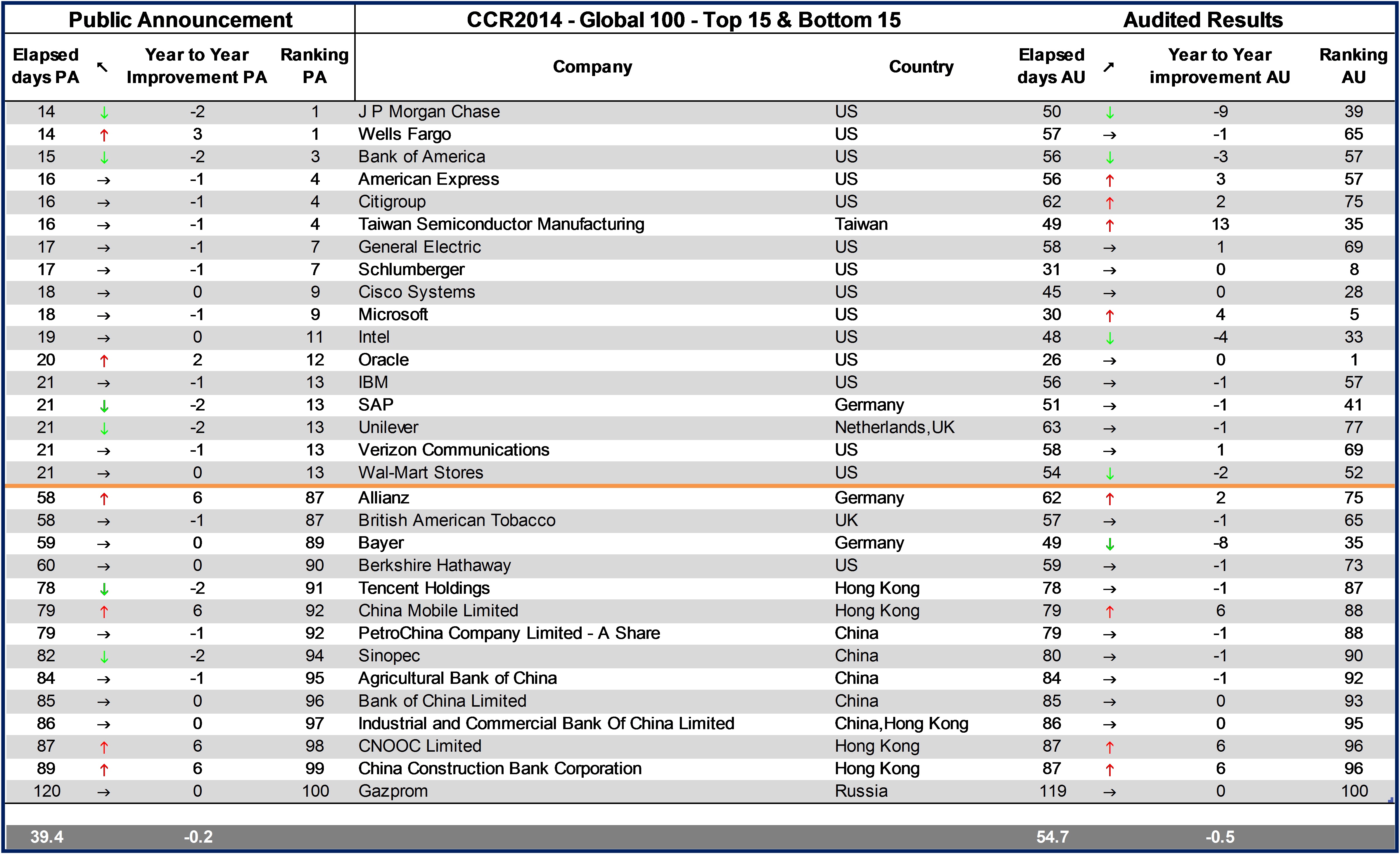 Click below to download the Close Cycle Rankings 2014 report!
---
Want to learn more about the Close Cycle Rankings 2014 report directly from the expert? Register to see our on-demand webcast: Consolidation & Fast Close at the World's Largest Corporations – What the Close Cycle Rankings Can Tell Us!
---
Read more about EPM best practices!
How EPM Caught the Pizza Bandit
Considerations in Upgrading to SAP BPC v10
Evaluating EPM? Where to Start Without Hiring a Consultant!
Why Replace a Working Spreadsheet Based Forecasting Model with SAP BPC?
Meeting SLAs Before You Start Development