Does Unilever breakthrough into the Global Top 10 for speed of year end reporting herald a dramatic shift in European reporting efficiency? Sadly not.
The summary report for our annual Close Cycle Ranking research has just been published. It contains research into Q4/Year End Financial Results announcements for the year ending 31st December 2015 for over 1,000 of the world's largest corporations.
The key findings from the research are summarised in the Global Summary report now available on the EPM International website and the Column5 website which can be downloaded on registration.
There are some key developments in the research in 2016:
For the first time in 14 years of our research, a European Headquartered company has made it into the Top 10 for speed of annual results announcement, that company is Unilever Plc, the Anglo-Dutch consumer products giant. Unilever announced its full consolidated year end results after 17 elapsed days, making it 7th equal in terms of speed of reporting out of the world's largest 100 companies by market capitalisation. That's a lot of information collected and consolidated from global operations in just 17 elapsed days! So, congratulations to Unilever.

Unilever's breakthrough into the US dominated Top 10 (see table above) does not however herald a dramatic closing of the gap between Europe and the USA in terms of speed of reporting. The USA continues to dominate the fastest companies in the Global 100 and the Global 500 and the average close cycle for US companies at 32 elapsed days remains dramatically better than the average of 56 elapsed days in the UK and an even more depressing 73 elapsed days in Germany. Only Scandinavia is close to closing the gap with the USA, Sweden takes an average of 34 days and Denmark an average of 37 days.
Learn More: Column5 Launches the "Close Cycle Rankings" in the US
Not only is the gap still wide in speed of reporting between the USA and Europe, but it is, in fact, getting worse (See table of average close cycles below). The European reporting cycles have been hit in 2016 by the arrival of the Solvency II additional reporting requirements for Insurance companies. This has had a dramatic effect of European Insurance companies and their reporting cycles. Some of the European Insurance companies to have a brake applied to their speed of reporting in 2016 include: NN Group of the Netherlands, 14 days slower than last year, Swiss Life Assurance Holdings 3 days slower than last year, Aviva Plc of the UK 6 days slower than last year, Old Mutual Group Plc of the UK 13 days slower than last year, Legal & General Plc of the UK 12 days slower than last year, UNIQA Group of Austria 5 days slower than last year, Munich RE of Germany 6 days slower than last year and Assicurazioni Generali of Italy and Generali of Italy both 7 days slower than last year. That's a big hit on the timetable of European Insurers.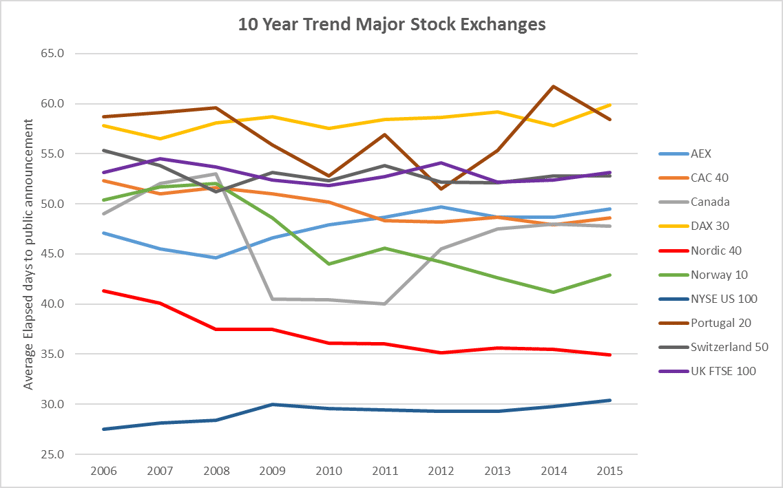 So, does the speed of close matter? The Close Cycle Ranking 2016 Report explains in some detail why Column5 and our EPM International research Partners believe it does matter. But in summary, we are clear that the close cycle time is a key benchmark for the effectiveness of the finance function. This is because speed of close is invariably symptomatic of the overall health, efficiency, effectiveness and quality of finance processes, people and systems across an organisation.
Learn More: Ready for the Year-End Close? What the Close Cycle Rankings Can Teach You
Those organisations who consistently achieve excellence in terms of speed of reporting can only do so by ensuring they have effective and efficient finance processes and systems that record and report quality financial information across the whole accounting process and finance leadership that focuses on continuous improvement. The fastest reporting companies are large and multinational, only effective and efficient processes and systems can allow them to consolidate and report with confidence in such short timescales. Great news for their stakeholders!
The year-end close cycle matters because it can impact investor perception as to quality, efficiency and transparency of company reporting but also because there is typically a close correlation between the speed of year end external reporting and the speed of internal reporting in these organisations.
Learn More: EPM International - The only integrated EPM consulting network with global reach
In our broader EPM benchmark research, for example, if you are fast at external reporting, you are typically fast at internal reporting. For most of our clients, the highest priority is to improve internal reporting speed as it's the critical platform on which effective performance management and predictive capability is built. This is essential for maximising opportunities and rectifying issues as the velocity of business continues to accelerate. But if this improvement can also drive acceleration of external reporting, then significant additional benefits around investor perception can accrue.
Our rankings also include the elapsed days to the group audit sign off. We believe the speed of audit sign off is also an important metric. Most companies in most markets announce audited year end results. Only the USA of the larger capital markets is a clear exception to this. A year end process cannot really be regarded as complete until the audit is complete and the danger of restatements has therefore largely gone.
To download a copy of the EPMi Close Cycle Rankings:
We also have an upcoming webcast that explores the Close Cycle Rankings 2016 in greater detail which I encourage you to register for.
Upcoming Webcast: The Hard Lessons of the 2016 Close Cycle Rankings
Join Column5 to review key findings and the hard lessons to be drawn from Column5 and EPM International's latest research into the external financial reporting timetables of the 1,000 largest companies in the world. Column5's David JH Jones, Managing Director EMEA, will explore what these rankings tell us, the lessons we can draw, why these rankings matter and why the speed of close is a key metric for CFO's and Corporate Controllers.
Wednesday, October 19 - 10am PT
Thursday, October 20 - 10am UK
Related Articles:
Blog Post: The Fast Financial Close, It's Not Just About Speed
Blog Post: Budget and Forecast - Are They the Same?
Webcast: Consolidation & Fast Close at the World's Largest Corporations – What the Close Cycle Rankings Can Tell Us
---
Author Bio:
David JH Jones leads Column5 in the UK and EMEA. He is responsible for all of Column5's services in the region, including EPM process design and SAP EPM systems implementation. He also contributes to the global leadership of Column5, particularly as an expert in leading edge EPM processes.
David is one of Europe's leading experts in Enterprise Performance Management (EPM) with over 25 years' experience in EPM, with a particular focus on world class EPM process design as well as system implementation at the Corporate Centre of multinational groups
David Jones, Managing Director of EMEA & UK, Column5 Consulting