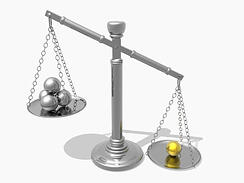 I often get asked "which are the 'good' events to go to for EPM related content?" Instead of answering in email, or on the phone, I want to make a more thorough response available for posterity.
First, let's ask: what are attendees' expectations when going to an event? These fall into two categories, with differing needs. One group is looking to make some sort of purchase decision, evaluating either software solutions or a new service provider. The other group has already made a purchase decision to own the software, and they are looking to update their knowledge of the product roadmap, and hear customer and partner stories about upgrades, process improvements, and other experiences that can benefit them. There are numerous events to choose from, and knowing which events are appropriate for each group is a good way to maximize the return on investment for attendee fee and travel dollars… and more importantly, your time.
The Column5 EPM Education Series, in particular the EPM Leadership Summit, was built around the second group. This event is specialized for users who are looking for more in-depth EPM training and knowledge. Let's look into the other events you can compare it to.
These are the most common SAP focused events I'll compare for discussion purposes:
SAPinsider Financials
TA Cook (SAP Conference for EPM)
SAP SAPPHIRE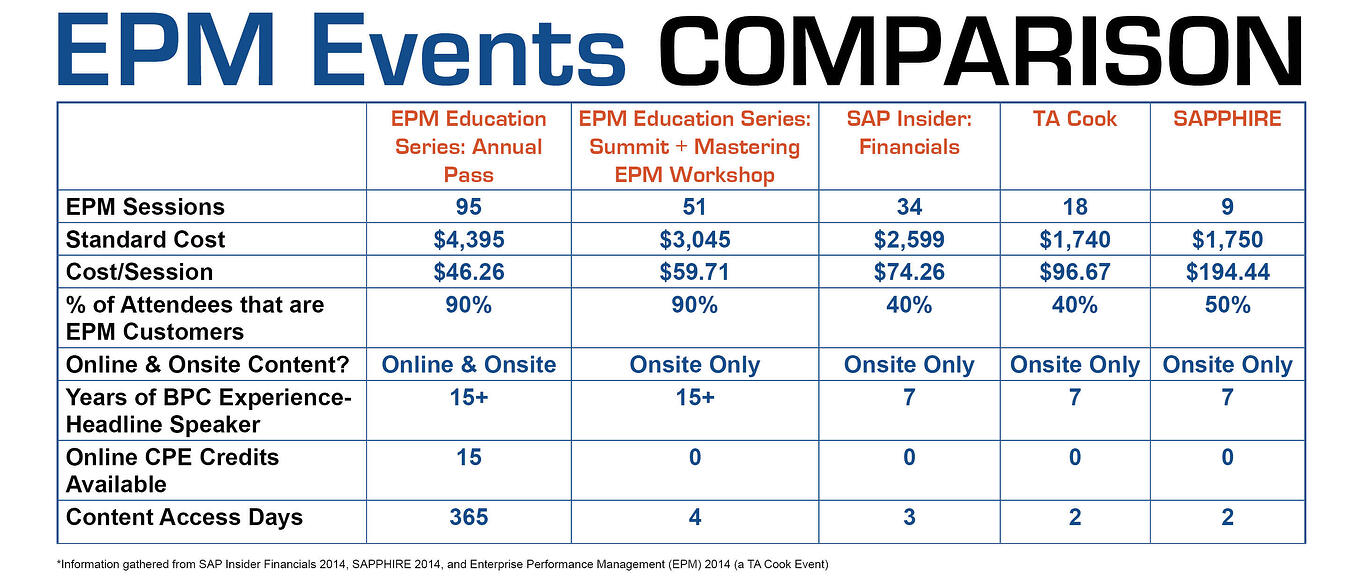 SAPInsider Financials – Contrary to popular belief, these events are NOT hosted by SAP, but rather a third party. This brand is one of several that rolls up to Wellesley Information Systems. Insider is a network that includes book publishing, a quarterly magazine, and a series of events. SAPInsider has many attendees (generally in the 1,000 to as high as 3,000 count) with a minority being partners and SAP staff, so customer networking is possible. The key challenge of these events is how they choose their content. SAP is extended speaking slots, including the keynotes, but the rest are allocated mostly on a pay-to-play basis. SAPInsider does not have subject matter experts internally, so there is increased potential for conflicting messages, sessions presented as "best practice" that are not validated to be, and other challenges.These events target those who already own SAP's flagship EPM product – BPC, but the content may leave such attendees disappointed given the lack of editorial oversight that ensures the content is of high quality. The event is highly focused on BPC content and features speakers who come across as technically knowledgeable about the solution, and in the past, some side on the deeply technical perspective. Content is delivered one session at a time, which makes relevance a challenge. For example, while a highly technical attendee may be satisfied with one session on the latest enhancements in a service pack or logic syntax, they may not take much away from a discussion about consolidation features.
TA Cook – TA Cook is one of the few conferences focused exclusively on SAP EPM solutions. With two session tracks, they provide options for attendees to choose which content they are interested in. SAP has a large presence at the event, and there are good opportunities to network with leaders in the space. The challenge I see with TA Cook is the number of attendees who are consultants. Less than half of those at the conference are actual customers. When consultancies are around their competitors, they are less likely to share important information and there may be a more 'salesy' experience for attendees.
SAP SAPPHIRE – This is the big show every year, where decision makers from SAP customers, SAP leadership, and partners come together to see and be seen, and of course to discuss the latest innovations on the roadmap. This event is co-produced by ASUG (Americas SAP User Group). Partners pay to sponsor booths, but sessions are awarded on the basis of merit and SAP's preferred agenda to showcase certain technologies. With attendance in the 10-20k range, the primary reason to attend is that every technology is represented by SAP, partners, and customers. Another positive is the control of the content. The knock on this event is just that – if you are focused on SAP EPM – for example, this show may not be focused enough to match that expectation.
With ongoing education and staying up to date with the technology developments, you may be wondering which one is best? At the risk of sounding like a consummate consultant, I'll say 'it depends'. If you are looking to evaluate software for the first time or talk to SAP and partners about what might work for your organization – perhaps a trip to SAPPHIRE is a good place to begin this journey. If you own the product and are looking for only a few sessions on technical tips/tricks on BPC but are perhaps more interested in gathering information on other modules in SAP's portfolio…you may want to do some checking into the SAPInsider. For customers who want to focus on EPM solutions, specifically BPC, the most focused event among the choices is clearly the EPM Leadership Summit.
EPM Leadership Summit – The EPM Leadership Summit is hosted by the most experienced team in SAP BPC, and that extensive experience brings pragmatic, real world knowledge to the fore across three channels of information-packed content. Choose the most relevant sessions from across three specialized tracks catering to EPM focused executives, administrators, and technical resources. A key selling point of this event is attendees are free to focus on learning, instead of navigating the sales shark tank. Uniquely, the event is not full of competitive consultants that force any knowledgeable presenters to keep content constrained to minimal value, that could be learned by their competition in the crowd. And for any bean counters who may want to attend, despite being held in Las Vegas, the event is priced to be the most cost effective in the ecosystem.

If you want to increase your knowledge about EPM & BPC, boost performance, expand user satisfaction, understand solution roadmaps and new products, plus network exclusively with other EPM users, I encourage you to learn more about the EPM Leadership Summit.
Check out the agenda!