June is a month of momentous events in London. While those events unfold, SAP BPC, FC and EPM users will also gather in London on 30th June and 1st July to share in their own very special event.
June 2016 in London will see a momentous celebration, commemoration and decision. The people of Britain will be celebrating the 90th Birthday of Queen Elizabeth II, Britain's longest serving monarch and a rock of stability through the last 7 decades as the British Head of State. They will be commemorating the 100th Anniversary of the Battle of the Somme, a horrific episode in World War I which saw tens of thousands of European citizens killed and wounded for no obvious or significant reward. And finally, the people of Britain will be making a dramatic and historic decision in their referendum on membership of the European Community. These events all have their own special significance for European history and Europe's future and we will all be watching them unfold with great interest.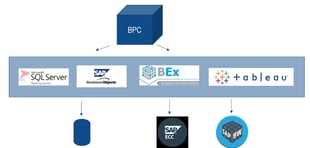 In June, Column5 will also be hosting its own unique and special event in London on 30th June and 1st July. It can't possibly compare with the enormity or significance of these three notable events but for those using SAP EPM solutions it does offer a unique opportunity that could have an impact on the value extracted from SAP EPM in their organisations. It will also help determine how SAP EPM might fit into their future plans and strategy for Performance Management. So, important enough in the context of their jobs and their own organisations exploitation of SAP EPM.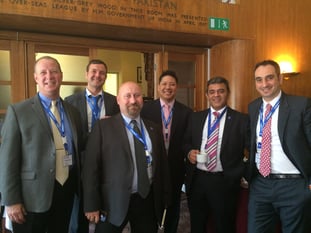 What is this event for SAP EPM users?
It is our EMEA EPM Summit, the only event in Europe that brings together finance and IT team members for whom SAP EPM (SAP BPC, SAP FC, SAP DM and FIM) is a key component of their organisations performance management infrastructure. For two days SAP EPM will be the complete focus of the Summit and as well as networking between the 70+ delegates who will be attending. We will also be hearing five customer case studies from some of the most important users of SAP EPM in Europe, as well as hearing about the future of SAP EPM from Senior SAP executives.
Which customers will be presenting at the Summit?
We will have customer speakers from:
British American Tobacco Plc (The FTSE100 Tobacco Company) will talk about how SAP BPC is supporting their global finance transformation program for both planning, forecasting and consolidation and management reporting and how they are tackling the challenge of change and end user adoption for thousands of users globally;
DNB ASA (The large Scandinavian Financial Services Group) will talk about the progress of their program of finance transformation at the corporate centre and how the whole suite of SAP EPM solutions (FC, IC, DM and BPC) has been or will be deployed, with a particular focus on the successful transformation of consolidation and regulatory reporting over the last two years.
Statoil ASA (The Norwegian Headquartered Energy Giant) will talk about their deployment of SAP BPC as part of a five year program to improve global planning, forecasting and consolidation and the benefits delivered and challenges faced. Including their recent experience of upgrading to BPC on Hana;
DFDS A/S (The European shipping and logistics company), will give an update on their use of SAP BPC to support transformation of management and legal reporting and planning and forecasting and how they have also looked to deliver additional benefits by driving up levels of user adoption;
G4S Plc (The UK FTSE250 Global Security Services Company) who will present their global deployment of SAP BPC for consolidation and management reporting across hundreds of business units and how significant value has been added by adding easy to use data visualisation for executive management and analysts using CxO Cockpit;
Related Content: 10 Customer Case Studies from all Industries
These customer presentations will inform and drive debate and discussion about SAP EPM implementation and exploitation. To supplement the client interaction there will also be presentations from experienced EPM practitioners who will inform and educate about opportunities for developing and exploiting SAP EPM further as part of your transformation journey. We will have different educational streams focusing on the Executive, Management and Technical components of SAP EPM transformation.
Why does Column5 host the EPM Leadership Summit EMEA?
It's quite simple; our discussions with SAP EPM users make clear that there are still not enough SAP EPM users getting full value from their investment in the SAP performance management solutions. Whether its lack of confidence about how exactly SAP EPM can transform processes and organisations, challenges of maintaining and developing the in-house skills to exploit the SAP BPC or BFC investment, frustrating performance issues, or just a lack of knowledge about how better processes can be enabled by SAP EPM, from operational planning to IFRS reporting, our European EPM User Summit is designed to help put this right.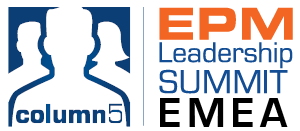 So, our EMEA EPM Summit, now in its third year, is the ultimate opportunity to share, network and learn how to liberate more value from SAP EPM. This event is a must attend for everyone who has an interest in seeing their organisations get the maximum return from their SAP BPC, FC and SAP EPM investments. While our event pales into insignificance compbared with the momentous events we are celebrating, commemorating and anticipating in London this June, we can promise a uniquely informative and collaborative opportunity to understand better how to take SAP EPM and your performance management processes to the next level.
Want to know more or want to register attend? Or interested in our pre-Summit SAP BPC Bootcamps? Just go to www.emeaepmsummit.com for more information and registration.

David JH Jones
EMEA Managing Director
Edit: Please visit EMEA EPM Summit for the most up-to-date information on our annual event.
---
Read more:
Top 5 Most Viewed Blog Posts of 2016