The SAP EPM value liberation army is on the march!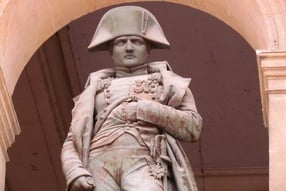 18th June 1815 was a historic day in the history of Europe. It's the day that two great armies lined up to determine Europe's future. Who would win? Napoleon and his magnificent "Armée du Nord", or the armies of the Seventh Coalition and the Prussians, under the Duke of Wellington and von Blücher?
In the end, as you know, Wellington and Blücher triumphed, but as Wellington famously said, the battle was "the nearest-run thing you ever saw in your life". But for once in his life Napoleon had fallen foul of his own famous tactics, "The battlefield is a scene of constant chaos. The winner will be the one who controls that chaos, both his own and the enemies". On this occasion he failed to control the chaos while Wellington did, and he lost.
So what on earth has this to do with SAP BPC and SAP BFC? Well, after circumnavigating the globe, from Las Vegas to Manila, the Column5 EPM Summit is ready to hit Europe. 200 years on from Waterloo, the Column5 SAP EPM value liberation army is arriving in London to help SAP EPM users take control of the market chaos and turbulence that confronts them every day.
The value of Enterprise Performance Management solutions is well known; they have become a well-established and valued part of the corporate armoury, helping to rapidly assess and evaluate past performance and enable companies to plan, anticipate, and react to this chaotic world. We sometimes forget that even 30 years ago, let alone 200 years ago, the corporate world didn't have access to EPM solutions. It was much more difficult then to plan your way out of difficult times, to react to markets changing at every increasing velocity, or even to plan your way through chaos. There is little doubt that some predictive analytics and some scenario planning for human capital management would have helped Napoleon's lieutenants assess their battle tactics more effectively.
So why should users of SAP EPM products, such as SAP BPC and SAP BFC, want to attend the European SAP EPM User Summit, and what do we mean when we say "the SAP EPM value liberation army is on the march"? It's quite simple, as I have said in my earlier blogs from our Summits in Las Vegas and Manila. There are still not enough SAP EPM users getting full value from their investment in these performance management tools. Whether it is lack of confidence about how exactly SAP EPM can transform processes and organisations, challenges of maintaining and developing the in-house skills to exploit the SAP BPC or BFC investment, frustrating performance issues, or just a lack of imagination about how better processes can be enabled by these tools, from operational planning to IFRS reporting, our European EPM User Summit is designed to help put this right.
With delegates from some of the biggest SAP BPC and BFC users in Europe, to delegates from some of the longest standing users of SAP BPC, to delegates from those who use the SAP EPM solutions across the widest and most imaginative sets of applications, this will be the ultimate opportunity to share, network, and learn how to liberate more value from SAP EPM. A combination of client user case studies and members of the Column5 value liberation army with deep expertise explaining how to exploit SAP EPM solutions to the max, this event is a must-attend for everyone who has an interest in seeing their organisations get the maximum return from their SAP BPC, BFC, and EPM investments. While we can't promise a famous victory for every attendee, we can help them share and acquire knowledge to help them control the chaos.
Want to know more or want to register attend? Just go to www.emeaepmsummit.com
David JH Jones
SAP EPM Value Liberation Warrior, 1st Class.