Business Case Builder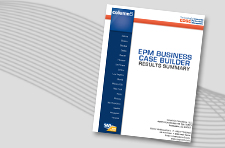 The new Business Case Builder iPad application is an EPM tool exclusively offered by Column5 to diagnose precisely where your company is in the EPM process maturity model. The goal? To identify and develop the strategies to take you to the next level, and ultimately toward management excellence.
It takes about 15 minutes to complete the survey, which asks questions about key aspects of Profitability Management and your current EPM process to determine:
Whether decisions in your organization are founded on reliable information and data

Whether your company is able to pre-empt and react to changes in market opportunities and challenges

How successful your enterprise is at translating strategic objectives into operational targets and measures that employees can readily understand

How well your company is leveraging key profitability drivers to deliver return on its investments

How profitability management is used and/or integrated with your organization's other EPM approaches and solutions.
The resulting personalized pdf report is generated instantly and delivered directly to your email inbox. In addition to providing actionable information toward your company's objectives and initiatives, the report provides an excellent way to "build your business case" and open productive discussions about how your enterprise can achieve its potential.
To download the Column5 Business Analytics EPM Toolkit for your iPad CLICK HERE!