SAP BusinessObjects Financial Information Management (FIM)
The SAP Enterprise Performance Management suite of applications comprises the modules that companies need to run best-in-class EPM processes. The modular approach allows customers to choose which applications to run that suits their needs and add to their portfolio as required.
Many data used across the portfolio are common to every module. How to control data integration and mappings required between different data sets, granularity and metadata? And how to manage the transport and transformation of data within the Finance function, as part of your EPM process, without having IT department processes in the critical path?
SAP BusinessObjects Financial Information Management (FIM) is an ETL tool aimed at non-IT users to manage the extract, transformation and load of data between SAP EPM modules.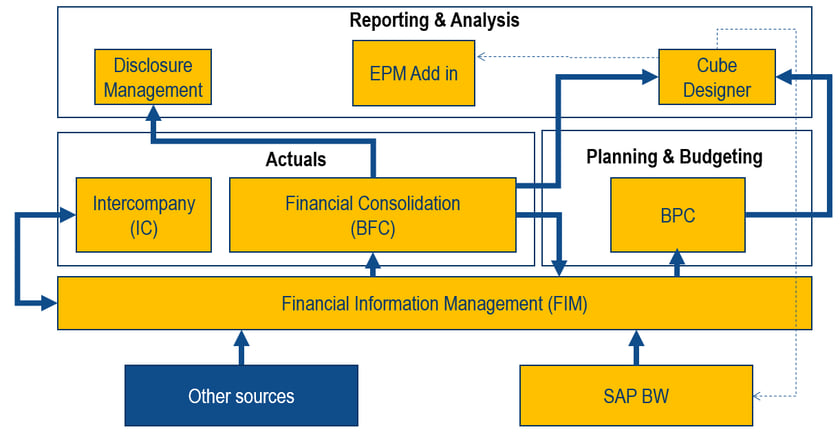 *Illustration of FIM within the EPM Reporting application stack
FIM comes with connectors to the entire SAP EPM products BFC, Intercompany, BPC, PCM, BSM), ECC , BW, HANA as well as third party RDBMS (SQL Server, Oracle) and Data Warehouses.
The application allows users to build and maintain ETL jobs with its simple to use web interface, building mapping tables with in-built functions.
FIM facilitates Drill-to-Origin and Drill-to-Source functionality between target applications and SAP ECC, further enhancing transparency of data and improving data quality.
Column5 and FIM can help you improve your data integration by empowering Finance users and improving upstream and downstream data flows.
New Features of SAP FIM (Webcast!)
Join Column5 for a demonstration of the new features of SAP Financial Information Management. During this session, we will be featuring how to integrate data across EPM applications (& third party data stores) by Business Users with minimal assistance of IT by leveraging existing enterprise integration framework with data services.