What is SAP Analytics Cloud?
SAP Analytics Cloud (formerly BusinessObjects Cloud) is revolutionary system combines planning, business intelligence, and predictive analytics in a single cloud-based solution. SAP Analytics Cloud simplifies financial planning and analysis (FP&A) and gives you the ability to analyze data and collaborate in the context of your plans in real time.
Discover, visualize, plan, and predict in one product versus separate point solutions

Experience a new and completely different product designed for the way you actually work

Benefit from a highly reliable solution built natively on the SAP HANA Cloud Platform

Go live quickly and affordably with a subscription-based SaaS analytics deployment

Take advantage of native integration with on-premise applications and data sources
---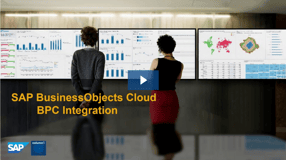 Watch our on-demand webcast with SAP about BusinessObjects Cloud as well as integration with BPC!
---
Functional Capabilities
Predictive analytics capabilities
Use guided machine discovery to help end users perform forecasting, find key influencers, detect outliers, and run what-if analysis. Easily embed predictive insights into your SAP BusinessObjects Cloud BI and planning workflows – in just a few clicks.
Planning capabilities
Embed collaboration tools and analytics directly into your planning processes so you never have to switch between applications again. Simplify financial planning and analysis (FP&A), plan at any level of detail with any number of users and align plans across departments by integrating with SAP BusinessObjects Planning and Consolidation.
Business intelligence capabilities
Answer business questions in just a few clicks with best-of-breed BI. Connect, prepare, and blend data from different sources. Create and enrich visualizations with insights from Big Data discovery. And uncover intelligence and take action at the point of decision in your applications.
SAP Digital Boardroom capabilities
Go beyond a traditional board portal. SAP Digital Boardroom equips business leaders with real-time contextual information, ad hoc reporting, and what-if analysis so they can make better decisions for today and drive change for tomorrow. Built on SAP BusinessObjects Cloud, the software leverages SAP S/4HANA Lines of Business data to provide a single source of truth for your company's most important metrics.
---
Technical Capabilities
Data Connections

Connect to SAP HANA, SAP BW, SAP BusinessObjects Planning and Consolidation, SAP BusinessObjects BI Universe, SAP ECC, SAP HCP Live, SuccessFactors, Salesforce, xls, and csv data sources.
Location Analytics

Visualize multiple layers of geo-enriched data on a map with Heatmaps, Choropleths, Points of Interest and distance filters using the power of the SAP HANA spatial engine
Calculation Engine
Run advanced calculations at blazing speeds with SAP HANA in-memory calculation engine. Perform report calculations, formulas, and dimension member calculations all in real time.
Value Driver Tree for Digital Boardroom

Simulate and visualize important business drivers on large, triple interlinked touch screens
Advanced Planning Options
These intuitive tools include multi-dimensional drag-and-drop report design, specialized layouts, cell locking, and auto spreading features. Use access rights and version management to create private versions, share with specific people, or publish to authorized users.
Guided Machine Discovery

Perform embedded predictive forecasting on planning data, detect outliers and automatically detect key influencers in your data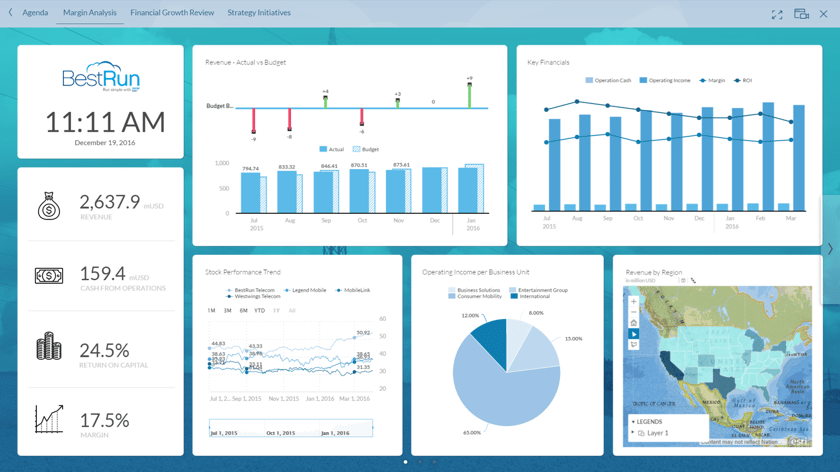 Want a demo of BusinessObjects Cloud? Contact us below!