What is Extended Planning & Analysis (xP&A)?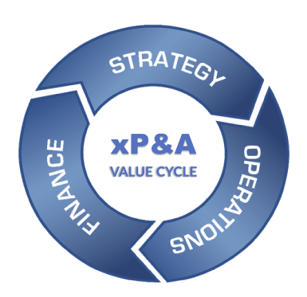 Extended Planning & Analysis (xP&A) is a term that describes the solution responsible for managing an enterprise's business performance. Building upon IFP (Integrated Financial Planning – focusing on finance) and IBP (Integrated Business Planning – focusing on operations), xP&A combines both of these disciplines on a state of the art big data platform. In addition to automating data integration, data collection, and reporting activities to a broadly distributed audience, xP&A introduces the opportunity to apply Artificial Intelligence (AI) and predictive analytics functionality to add rich analytic capabilities to this potent platform.
Gartner, an acclaimed technology industry analyst, has chosen to replace coverage of tools typically considered players in the EPM space with coverage with a broader set of criteria for the xP&A market in 2021. EPM vendors are quickly making the case that their solution is credible despite the significantly expanded functionality criteria for best in class.
Column5 has been advocates for advanced processes within EPM that extend into operations for many years. Gartner and other vendors are now joining the chorus pushing clients to apply this technology to broader business areas to produce more ROI from their investments.
In 2020, Column5 has introduced DNA – Dynamic Networked Analytics – as a process to replace legacy Serial Analytics methods that have been in place since the introduction of spreadsheets. DNA benefits include advanced planning paradigms that surpass budgeting, rolling forecasts, and activity based costing for the ultimate in AI/Predictive driven planning. To determine how your process may be enhanced by xP&A, DNA or advanced analytics, we encourage customers to consider our Assessments. More information about Serial Analytics vs DNA, EPM vs xP&A and much more can be found on the EPM/xP&A Summit Network.
Current SAP Products that support xP&A functionality:
Planning & Consolidation (BPC)

:

BPC is a single platform for financial and operational process planning, forecasting and reporting. By eliminating the need for separate modules or proprietary applications, we can simplify the technology, data and meta-data management, the cost of ownership, and the user experience. With Microsoft Office and Internet Explorer as the database interface, users have an easy-to-use way to access a single version of the truth—decreasing training time and improving adoption.

SAP Analytics Cloud (SAC)

:

SAC is a solution that plays several roles – Business Intelligence/Analytics/Reporting, Enterprise Performance Management/Planning, and Predictive Analytics/AI – all on a flexible cloud solution. This tool is SAP's flagship solution that fulfills the above functions as well as a front end for numerous SAP cloud products as well. This powerful solution can be an essential component in an xP&A capability.

SAP Integrated Business Planning (IBP):

IBP is a solution that supports operational planning and integrates with S/4, SAC and HANA for a cohesive analytics stack. With efficient data and front end alignment, clients that covet xP&A solution capabilities may find IBP's rich operational planning featureset a good match for their needs.

SAP S4/HANA Group Reporting

:

Group Reporting is the latest consolidation solution supporting S/4 clients with advanced functionality. Evaluate your options for consolidations depending on your present and future landscape to learn what the right solution for your needs may be.
Clients can choose prebuilt solutions Column5 configures from partner Darwin EPM, or a more tailored solution can be built to suit precise client requirements.
Legacy SAP Products:
Strategy Management (SSM):

Many strategic programs are derailed by the gap between strategy definition and the processes, technologies, and initiatives required to achieve organizational goals. SSM, in conjunction with Column5's strategic consulting services, enables your organization to bridge the strategy-to-execution gap to make informed decisions that support a unified strategic vision.

Profitability & Cost Management (PCM)

:

Column5 uses PCM to help clients generate operational P&Ls that can be leveraged by executives to make critical profit and loss decisions. This platform enables you to identify the customer, product, and business-sustaining activities that comprise profitability-supporting operations, and to link these operational drivers to the financial resources allocated to support them.

Financial Consolidation (BFC or FC)

–This software is the solution for companies looking to improve and speed up their financial close – without sacrificing quality control and compliance. BFC has a particularly strong focus on statutory consolidation requirements within large multinational organizations that have complex and evolving corporate structures across multiple reporting standards (e.g. IFRS and local GAAP). BFC supports the collection and consolidation of non-standard/regulatory reporting and budgets, plans & forecasts in the same environment.
Interested in creating a roadmap for your EPM or xP&A strategy or want to improve your existing one?