STABILIZE, OPTIMIZE & EXPAND VALUE
EPM & xP&A Solutions involve the effective combination of people, process and technology. When each of those components have to be properly configured to deliver the best results, the user experience is the tool aids in increasing process effectiveness. When any element is not quite right, users grumble and the value of the entire solution is in jeopardy.
Clients may experience a solution out of balance as having "bad performance", "unreliable data", or being "too costly or difficult to use/maintain", but they often can't pinpoint the root cause. Clients also don't appreciate how a poorly running solution acts as a blocker to achieve potential business benefits of a more mature process.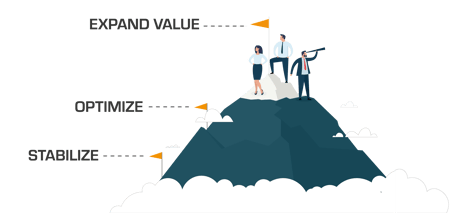 Feedback indicates following a logical sequence of alleviating immediate stability challenges as a top priority, then automating process steps and tapping into unseen features which serve to optimize value returned from the solution… only then an organization can explore ways to expand their usage of the technology to unlock further value. We depict these sequential iterations for improvement as climbing a mountain.
The truth is that there is not a single root cause that is blocking your organization from achieving peak value. Our many assessments reveal there are often opportunities to improve in each component of the solution. Our detailed process evaluates all contributing factors to identify the resolution for your challenges to produce results for both the short and long term. A risk of not taking this comprehensive approach is repairing the immediately observable symptoms, which can further entrench inherent systemic weaknesses that will only be more costly to replace in the future.
IS AN ASSESSMENT RIGHT FOR YOU?
· People: Are your people trained & empowered to harness the full power of the solution to make their jobs easier, or do they complain about how the tool is hindrance to their ability to perform their role? Is your team clinging to familiar manual processes you believe the solution should be performing automatically? Is the team unfamiliar with best practice standards for how this solution should function? Is your team overly reliant on third parties to maintain a black box solution?
· Process: In an effort to maintain a familiar sequence of events, did your solution design inadvertently cement all the defects of a 20 to 40yr old business process into your brand new solution? Do you question why you bought this new solution in the first place? Did anyone notice despite the long implementation, the process seems eerily similar to what you have been doing in Excel since the beginning of time? Do you feel uncertain about the benefits and ROI of the solution initiative?
· Technology: Is your technology barely functional because it generates errors, or does it process objects for hours while the business cycle is held up waiting for completion? Do you feel like there's a "ghost in the machine" and you don't know if today is going to be a good or bad system day?
These and many other questions can be answered with a comprehensive EPM Assessment from Column5.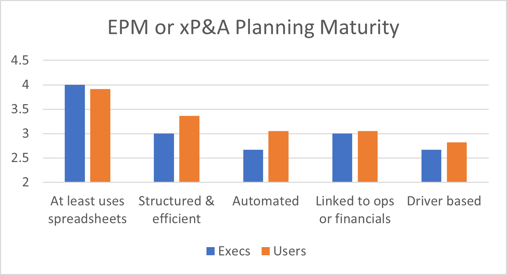 ASSESSMENT PROCESS:
The assessment can be completed in just a few weeks and will require only light to modest availability from your team over that period. After a brief kick off meeting, our process leverages electronic surveys and automated processes to jumpstart the exchange of information with the least fuss and maximum consistency.
Typical EPM/xP&A Assessment workflow:
Discovery: Questionnaires distributed to and collected from relevant executives, administrators, users, and technical resources. Key objects & solution documentation collected.

Analysis & Interviews: Consultants review collected objects, formulate detailed questions and interview key stakeholders including executives, process owners, functional administrators, and technical administrators.
a) Functional Assessment
Models: Data & Dimensional model, business rules & calculations

UI: Reports, input Templates, workflow & other functionality

People: Skills & resource allocation

Upgrade readiness (if applicable)
b) Technical Assessment
Scalability, environment configuration variables/settings

Administrative processes & data flows that impact system performance

Cost of ownership options
c) Program Maturity & Vision
Review EPM or xP&A functional and technical analysis

Review Strategic, Operational, and Financial Planning processes & tools

Review Analytics roadmap and future process vision

Develop range of options to achieve improved function and value
Analyze Results, Compile & Present Report
Key Output & Benefits
Detailed diagnostics across people, process & technology, ranked from stabilization, optimization and expand value priorities.
Phase by phase EPM and/or xP&A Roadmap adopting a unified approach for an integrated, scalable and reliable EPM and xP&A implementation
Comprehensive Assessment Report including Fit Gap analysis, Rollout Approach and Proposed Architecture required to achieve sustainable benefits
Here's what customers have to say about their assessment experience:
"Before Column5 came in, certain reports and data manager packages were running much slower than they ever had. With the work Column5 did, we were able to increase performance in most of the reports by up to 50- 75% and in most of the packages by 100-300%. Our users have been extremely happy with the performance increase and it's showing in our budgeting and forecasting processes."
- Financial Information Systems Manager, New Balance -