What is Enterprise Performance Management (EPM)?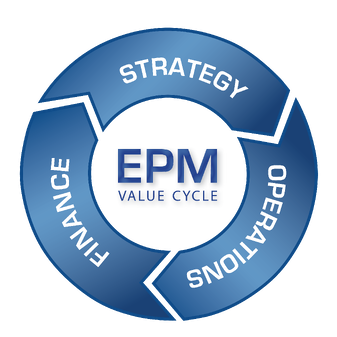 Enterprise Performance Management (EPM) is an umbrella term that describes the methodologies, metrics, processes, and technology systems used to monitor and manage an enterprise's business performance. EPM streamlines and improves strategic plans on a variety of critical levels: managing variability, increasing information accuracy and consistency, increasing profitability and shareholder value, lowering overall cost, and other key performance indicators.
EPM can contain numerous business processes such as: Budgeting, forecasting, planning, management reporting and even consolidations to a degree. We use EPM when focusing on planning.
EPM solutions can be a significant upgrade to spreadsheet centric solutions like a manual budget where data is cut and paste from an accounting GL for actual numbers and plan numbers are input alongside to calculate variances.
Column5 focuses its EPM programs on going beyond what was contemplated in a spreadsheet centric environment. We develop mature management processes that readily adapt to change—providing consistent information across organizations in a scalable manner, and this dynamic data helps decision makers monitor progress against plans. Based on comprehensive assessments, and facilitated with a variety of starter kits and advanced enhancements, most Column5 EPM engagements employ one or more of the following SAP Analytics platforms and tools.
Current SAP Products:
Planning & Consolidation (BPC): BPC is a single platform for financial and operational process planning, forecasting and reporting. By eliminating the need for separate modules or proprietary applications, we can simplify the technology, data and meta-data management, the cost of ownership, and the user experience. With Microsoft Office and Internet Explorer as the database interface, users have an easy-to-use way to access a single version of the truth—decreasing training time and improving adoption.

SAP Analytics Cloud (SAC):

SAC is a solution that plays several roles – Business Intelligence/Analytics/Reporting, Enterprise Performance Management/Planning, and Predictive Analytics/AI – all on a flexible cloud solution. This tool is SAP's flagship solution that fulfills the above functions as well as a front end for numerous SAP cloud products as well. This powerful solution can be an essential component in an xP&A capability.
Darwin EPM
, or a more tailored solution can be
built to suit precise client requirements.
Legacy SAP Products:
Strategy Management (SSM): Many strategic programs are derailed by the gap between strategy definition and the processes, technologies, and initiatives required to achieve organizational goals. SSM, in conjunction with Column5's strategic consulting services, enables your organization to bridge the strategy-to-execution gap to make informed decisions that support a unified strategic vision.
Profitability & Cost Management (PCM): Column5 uses PCM to help clients generate operational P&Ls that can be leveraged by executives to make critical profit and loss decisions. This platform enables you to identify the customer, product, and business-sustaining activities that comprise profitability-supporting operations, and to link these operational drivers to the financial resources allocated to support them.
Financial Consolidation (BFC or FC) –This software is the solution for companies looking to improve and speed up their financial close – without sacrificing quality control and compliance. BFC has a particularly strong focus on statutory consolidation requirements within large multinational organizations that have complex and evolving corporate structures across multiple reporting standards (e.g. IFRS and local GAAP). BFC supports the collection and consolidation of non-standard/regulatory reporting and budgets, plans & forecasts in the same environment.
Interested in creating a roadmap for your EPM strategy or want to improve your existing one? Contact us!