"They spill more beer than we make in a year!" That line was from a great beer commercial for a small brewery that claimed small, handmade batches (or microbrews) were superior to the huge commercial operations of the beer manufacturing kings. Consequently, sales of "microbrews" took off, with consumers deciding that selecting a personal favorite from a market rich with a variety of choices was superior to buying beer from the monolith that had "regular" and "light" to choose from.
Over the years, even the big beer manufacturers caught on and split up their product lines to include many more flavors to better serve the range of choices that consumers prefer. Today, it seems like new flavors and brands have popped up almost weekly over the last 20 years.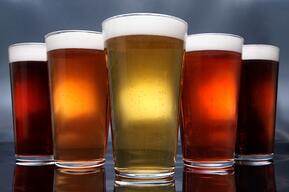 Today, I was sitting in an airport bar and took note of who was drinking what. The bar itself was a microbrewery, but it served the "megabeers" too. I saw some older patrons exhibiting brand loyalty and drinking the "king of beers" instead of tasting more exotic and varied flavors. I wonder if they are drinking that brand of beer because it really is the best tasting to them, or it's just a habit.
So, too has the EPM services market evolved. In the past, customers could choose from service providers direct from the software vendor, from a global system integrator, or from a regional boutique. Like the beer brands, each has their distinct 'flavor'...but some have more of an aftertaste...and some were definitely more likely to leave you with a headache in the morning than others.
We've talked about the differences here many times, and in every competition, with every project, we feel validated that there has to be a personality match with the client to the service provider.
You ask customers what they want, and it's always, 'the best result for the lowest price'. Unfortunately, the 'best result' is a difficult-to-quantify, relative concept. What's best for you depends on your company's culture and corporate vision. If you have aggressive, bleeding-edge goals and want to move quickly, that's an indicator for one kind of firm. If you want the lowest possible implementation cost and a less aggressive solution...that points to another. There are a range of options across a spectrum, and mistakes are likely, resulting in multiple "samplings" until a good fit is identified.
It is important to select a partner that truly aligns with your values, and makes you believe that a good relationship can be built for your combined team.
Some things to think about when evaluating different partners:
1.) Size. Does this company's size present an advantage or a liability to their customers?
2.) Market orientation. Is the company 'deliberate' or 'opportunistic'? Do they make significant investments in this space? Ask them to talk about what they put back in to the ecosystem and how those investments yield value to customers.
3.) Coverage. Does the company have resources in places where your key people work?
4.) Vision. How do the various partners describe 'success'? Sounds simple, but firms with murky images of success likely have difficulty driving to that point.
5.) Plan. Do they know what success looks like and do they have the specialized resources working together to achieve success?
6.) Expectations. Some firms say 'yes' to everything you ask. Some express their expectations for the client role in a very specific way. What outcomes are tied to these perspectives?
When there are only two choices: "Beer" and "no Beer", then certainly the generic beer is better, right? But the fact is, there are a lot of choices, and finding a well enabled firm that works for your company's taste preferences is a great first step to delivering higher value for EPM.
---
Planning, Budgeting & Forecasting for Professional Services Webcast.
Register below to watch this session which features a case study by Orrick, Herrington & Sutcliffe LLP, who has implemented SAP Business Planning and Consolidation (BPC). We will also provide an overview of BPC along with Best Practices and design options when configuring BPC in Professional Services organizations.