In terms of EPM training, there is a broad range of offerings that a company can utilize. Whether it be on-site, workshops, or customized training portals, EPM Academy has administered thousands of sessions in pretty much any format you can imagine. At this point, with over 10 years of EPM training experience, it seems we've seen it all. But by far, the most effective format of BPC education is customized eLearning. EPM Academy's customized BPC eLearning training is in a league of its own, and will greatly benefit any type of organization, regardless of size or number of BPC users.
As an EPM Academy trainer, below are 5 observations on why customized BPC eLearning makes such a significant impact on user satisfaction and ultimately the ROI of your EPM program.
It's employee focused
It provides specific tools employees need to succeed
It's meaningful
It ignites a renewed interest in the software
It's fun!

1. It's employee focused
BPC users are unique, and so are their learning needs. Customized courses are specifically designed to meet the needs of both the organization and the user. Although access to standard BPC eLearning courses allow users to learn a broad range of BPC skills, there are cases in which a custom eLearning solution may be a better fit. For example, an organization may have a complex planning/budgeting process that requires unique steps for its users to follow, and specific process-driven details they must understand in order for them to be successful. Implementing a custom eLearning course will give your users and organization more than just the basics. If will give them meaningful insight into your organization's process.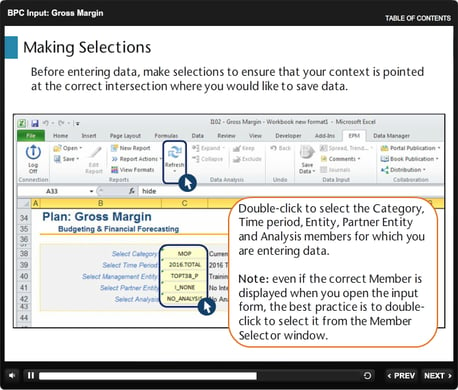 2. It provides specific tools employees need to succeed
Developing a custom BPC eLearning solution provides employees with specific tools and information they need to do their job effectively. Having both on hand leads to improved performance and higher ROI. Custom eLearning provides them with job-specific examples and interactive scenarios that directly reflect their daily tasks in their actual working environment. We've all had a time in our career when we felt we didn't have the tools or training to do what was asked. The frustration and the loss of productivity are all too real. Customized BPC training provides employees with job-specific resources before this problem even arises.
Complimentary BPC Skills Test for Blog Readers: Learn More!
3. It's meaningful
Custom BPC eLearning is designed specifically with the needs of BPC users in mind. It bridges the gap between their current knowledge state and their desired state. Users learn on-the-job practical BPC application. When the content is directly related to their specific job role, users are more likely to be engaged in the learning process. Retention of important points is also higher when the material will directly relate to their position. All in all, developing a custom eLearning solution is a learner-focused activity. Employees feel that they are valued enough to be offered an eLearning course specifically designed for them. This helps to boost long-term employee morale with their company.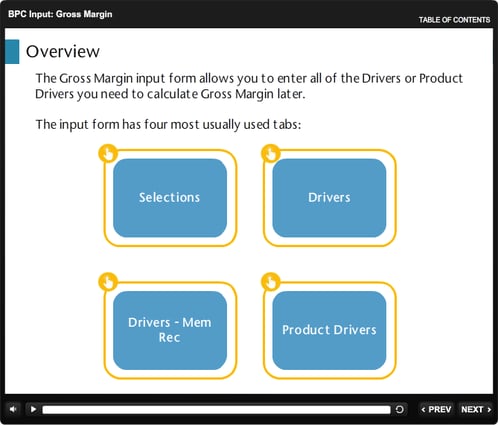 4. Ignite a renewed interest
Why would BPC "experts" need training? They may not want to admit it, but there is always room for improvement. Even the most resident BPC experts become frustrated and bored with the same printed training materials. And continuing their University of Google degree can only get them so far. When experienced BPC users take part in the custom eLearning solution, they are not forced to engage with the same standard course that they have taken in the past. They are no longer forced to sift through extensive reference documents. So, why not give them the opportunity to engage in new scenarios and participate in simulations that test their real knowledge?
5. It's fun!
Yes. You read that correctly. Learning BPC can, in fact, be fun! When it comes to designing a custom BPC eLearning solution, our training team can develop something that is not only visually engaging and entertaining, but something that allows employees to become positively affected by online learning. By utilizing our team of experts, Column5's EPM Academy can create something that will stimulate every BPC user's interest by incorporating a variety of interactive opportunities. It's unlike any other BPC training program.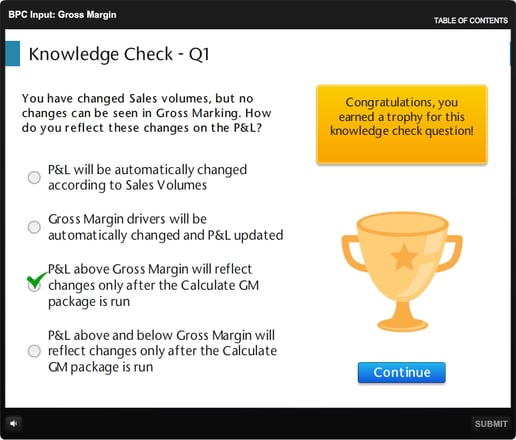 The customized eLearning educational approach to BPC has help hundreds of companies increase the ROI of their EPM and delight their users. Want to learn more about custom eLearning solutions or see an example? Contact us today at EPMAcademy@column5.com!
Upcoming BPC Reporting Training in Scottsdale, AZ! Download the Agenda today!

More EPM Content You Might Like:
Webcast: Enhance SAP BPC and EPM User Success with e-Learning
Webcast: How Column5's EPM Academy Can Help Ensure the Success of Your EPM Solution
Get the Most Out of Your BPC Training with Column5's EPM Academy
EPM & BPC Training: Addressing the Needs of Adult Learners
EPM Training: From Strategy to Execution
---
Author Bio:
Adam Hess is on Column5's SAP EPM Curriculum Developer and Trainer. With over a 100+ classroom deliveries, Adam knows how to design, develop, and deliver live and virtual classroom environments. His current training and eLearning development expertise includes SAP BusinessObjects Planning and Consolidation 10 and 10.1 (Reporting and Administration) for both Microsoft and NetWeaver versions. He has been with Column5 since 2014.