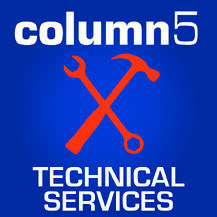 Column5 is the premier partner of SAP in the enterprise performance management (EPM) space, and in the Technical Services team, we often come across competitors' proposals and RFPs that refer to installation consultants as distinguished from a technical consultant role.
While installation is a critical component of an application implementation (i.e., if the foundation isn't great, the house won't be either), it is not the whole story--nor even the most important part of it. Elements of technical landscape design include hardware and sizing, performance, stability, and other factors that are usually more important over the life of the product. Another important factor is having the resources to support the product and the underlying technology stack, in-house.
During an installation, the technical consultant is well versed on how all of the different components work together and why they are necessary. The technical consultant provides education to the customer during the time of installation, both on the back end as well as the front end during client testing. It's not just an install-and-go operation as it might be for an install consultant. There is a lot of valuable knowledge transfer made available to the customers, so they can be as independent as possible after the product is implemented and the consulting firm leaves.
Some of our competitors in the EPM space would have you think the landscape design process is a matter of a 3-part Q&A:
Q: How many users will you have? A: 20
Q: How do you plan to use the product? A: Planning
Q: How many years you will keep data? A: 5
From this extremely limited information, they believe they can tell you all the hardware sizing information you need! But remember that when implementing an analytics application such as Business Planning & Consolidation (BPC), going live doesn't mean things aren't going to change. Functionality will be added or additional data may be saved, either of which has a direct impact on performance and stability.
The Column5 Technical Services methodology for implementing the SAP Analytics applications takes a holistic technical approach in order to ensure we are achieving maximum performance and stability at each component level in the technology stack. With a deep understanding of each component and the software involved, we can implement the products according to our evolving best practices and in conjunction with elite customer and SAP standards.
Column5's Technical Services implementation plan starts with a landscape design much more in depth than just three questions. In an upcoming blog post, I'll share an actual agenda of a recent technical landscape design we did for a large multinational customer--so you can see for yourself the details in the process, and how they fit together.