Since its early OutlookSoft days, BPC has always been touted as a tool that enables finance teams to become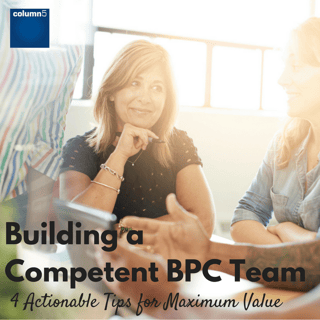 independent from IT so they can wield control of the system during crunch time. Fast forward to SAP acquiring BPC, many SAP shops pride themselves on have the internal capabilities to own their systems, period. It isn't shocking that many of our clients have come ready to meet the challenge of proper care and usage with an internal team. Column5 applauds this approach and has created numerous tools to help your team succeed:
Establish Internal COE:
We recommend our clients form an internal Center of Excellence or competency center with the sole purpose of evaluating "how well are we doing?" This team should be looking to establish effective KPIs for your success. These KPIs should cover topics like number of users served, system performance metrics, customer satisfaction, and process cycle times related to a planning cycle or financial close. Benchmarking available through Column5 & EPM International can help measure your KPIs against other EPM owning organizations around the world to ensure your systems measures up to the level of competitive advantage versus merely average. Additionally, your COE can use Column5's right model, audience, and time methodology to examine other gaps in syncing your financial, operational, and strategic plans. Your COE can use this as a roadmap to work with other internal business partners. Ultimately, the goal should be expanding your EPM penetration while increasing user satisfaction; more functionality with greater usability.
Grow Capabilities in Your Organization:
One of the greatest implementation misnomers is the idea that a single training session at the end of a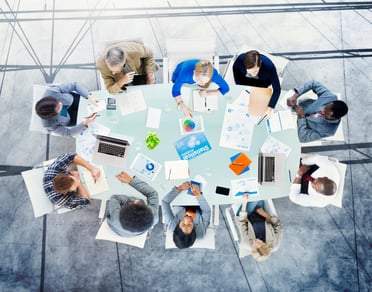 deployment is all you need to move forward with deriving full value from your system. Look at two prominent careers in our society: CPAs & chartered accountants are required to take many hours of continued education every two years and doctors are required to take up to a hundred hours (requirements vary by jurisdiction). While you may not be a doctor or even a CPA, aren't you responsible for the financial health and outlook of your organization? Wouldn't it behoove your users to become the best data scientists possible by taking refresher courses or by acquiring a new skill? Column5 believes the answer to these questions is a resounding YES! Work with training specialists to build a customized plan of action correctly suited for your organization.
Attend Events:
Echoing earlier statements, we believe there are two concepts that absolutely apply: 1) EPM is the cornerstone of effective financial, operational, and strategic control of your organization. 2) Technology is constantly changing. Put these two perspectives together and there is an immense need to stay up to date on what is changing, connect with peers and EPM professionals to share successes and failures, and lastly capitalize on training related to all of the above. Wouldn't it be nice to respond internally to questions about what it takes to get your EPM system working, how to drive increased value from your investment, and how your organization can benefit from the cloud, SaaS, and HANA as they relate to your EPM roadmaps with confidence and purpose? This is exactly the type of material that is covered at our EPM Leadership Summit, making this a must attend event for any organization that owns or is considering the purchase of SAP EPM products.
Our virtual educational annual subscription package includes three live events per year in the second, third and fourth quarters with content available on-demand throughout the entire year. Featuring a total of 45 high quality, deep-dive, EPM sessions; 15 sessions delivered over 5 hours per live event, the Column5 EPM Summit Online Annual Pass details the latest technology, products, and best practice updates delivered by proven experts and customers in three tracks: Functional, Technical, and Executive. Each track features 5 hours of sessions with each live session being worth one CPE credit for participants. Although attendees won't have time to view all the sessions during the live event, you are able to increase your expertise beyond the live sessions with full access to all three tracks of content in the virtual environment, year round.
Use Tools for Support and Validation:
Column5 is one of the few partners committed to providing original content related to everything EPM. Have a question on a particular topic? Trying to prep for your internal COE roadmap discussion? Try searching our content library and use this free service provided by the experts at Column5 to elevate your conversation.
2. EPM International Benchmarking:
Gain insight into how your core performance management processes, organizational structures and systems for consolidations, planning, and reporting compare with other international companies and assess where you have a good practice and potential improvement opportunities.
Even if you are confident in your team, doesn't an occasional check-up help validate your team's performance and more importantly help you hedge against unseen risks? Periodic environment reviews and performance tuning is one of the easiest steps to help you avoid dreaded downtime or sluggish performance which ultimately drives your user satisfaction down.
Conclusion:
Column5 is here to help when you decide to develop a team capable of managing your EPM solution landscape within your organization.
Related Content for You:
Webcast: Introduction to Column5 Managed Service: BPC Ownership, Simplified
Blog Post: IT Best Practices for EPM Implementation Success
Blog Post: The Top 5 Things to Consider When Selecting a Consulting Partner
Blog Post: Learning Resources for SAP BPC
Blog Post: Analytics, EPM, and Managed Service
---

Author Bio:
Jonathon Pause is the Managed Service Director and has been with Column5 for 8 years. He has over a decade of SAP BPC experience.
Jonathon Pause, Managed Service Director, US Team