Many of you will have heard that the EPM Add-In is being replaced with Analysis Office. This is not quite true: the EPM Add-In is being replaced by the EPM Plug-In which is a part of the new Analysis Office Add-In which also contains a Plug-In called Analysis. I hope that is clear.
If not, let me explain further.
At the moment there are two separate client options for data analysis in the SAP BW/BPC world, Analysis Office and the EPM Add-In. As shown below, they will be merged into a single Analysis Office Add-In with two Plug-Ins available (Analysis and EPM).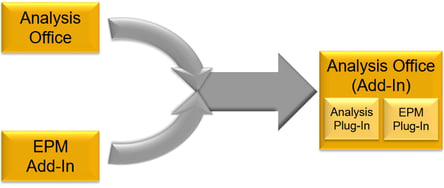 Source: SAP
The version of the Analysis Office Add-In available right now (called SAP convergence client 2.2 which has been released in November 2015), adds three tabs to Excel on installation (highlighted in yellow):

Source: SAP
The EPM tab and the Data Manager tab in SAP convergence client 2.2 are exactly the same as the stand-alone EPM Add-In except that they cannot be used in MS Word.
The Analysis, EPM and Data Manager tabs have separate log-ins. For a BPC 10.1 Standard project you would not use the Analysis tab, only the EPM and Data Manager tabs. For a BPC 10.1 Embedded or BW-IP project you would use the Analysis tab only. One advantage here is that you can have an EPM report reading from BPC in one Excel worksheet and an Analysis report reading from BW in another worksheet of the same workbook. This is very useful when doing reconciliations between BW and BPC.
It is possible to use the EPM Plug-In for BPC Embedded projects, but some functionality is lost:
The Data Manager no longer functions and is replaced by Planning sequences and functions in BW
Insert comments functionality is no longer available
Insert member has a different functionality
Calculate Parent in Hierarchy (based on Account Type property) no longer works
Drill-through not available
EPM formulas like EPMDocument, EPMDocumentList, EPMCellContextDocument, etc... - BPC Web in embedded model not supporting them.
Publish to Library is not supported
Metadata and master data cache is only available for queries without variables
Source: SAP
So, it is not recommended to use the EPM Plug-In with BPC Embedded projects, the Analysis Plug-In should be used instead. SAP recommends the following product usage according to the type of source data.

Source: SAP
SAP convergence client 2.2 installs both Analysis and EPM Plug-Ins with a common installer and a single licence, so those companies using Analysis Office to connect to BW and the EPM Plug-in to connect to BPC will save on licences if it is the same set of people using both tools.
According to SAP documentation, all functionality which is currently present in the EPM Add-In SP23 is included in the EPM Plug In which is included in SAP convergence client 2.2, and future service packs will be in step.
A new version of the client is planned to be published in June 2016: SAP convergence client 2.3. We do not have visibility on the functionality of this client at present. Watch this space for more updates on the implications of SAP's Product Road Map.
Interested in a full day of Analysis for Office hands-on training?
Join us for a full day hands on workshop to explore the latest features, tips and tricks with the current version of SAP BusinessObjects Analysis for Microsoft Office. We will also provide an update on the convergence roadmap and discuss the best options based on several use cases.
Related Articles:
SAP BW-IP, SAP BPC NW 10.1 Standard and SAP BPC NW 10.1 Embedded Compared
Within BPC Automatically Display Related Members
What's New for EPM - A Look at the Latest EPM Roadmap from SAP
---
Author Bio:
Richard Hynes has been with Column5 Consulting as a Senior Consultant since 2014 and is one of our most popular bloggers, and is also a published author in print with technical books on Microsoft Excel and Database Programming with .NET. He is a trilingual BI professional with a double competency in Finance and IT. Hynes works on the UK team and works with various clients in EMEA.
Richard Hynes, Senior Consultant, UK Team