This post originally appeared on SAP's Community Blog.
SAP BusinessObjects Planning and Consolidation (BPC), version for SAP NetWeaver 10.1, exists in two versions: Standard and Embedded.
We observed that although there is rich knowledge sharing content available – either from SAP or from our ecosystem – it looks like the overall maturity level on Embedded is still lower than Standard.
In addition to learning about Embedded from this post, you can also watch our on-demand webinar, The 10 Things You Need to Know about SAP BPC Embedded:
This is how the idea of this blog came out: provide an entry point to the available resources, and maybe elaborate on some aspects.
One product/different flavors
SAP BPC comes in different flavors: BPC version for Microsoft, BPC version for NetWeaver, BPC version for SAP HANA, BPC Standard (aka Classic), BPC Embedded, BPC on HANA, and recently, BPC Optimized for S/4 HANA.
It looks cumbersome, but it is actually pretty simple, and extremely well explained in this
short article
.
Now, as BPC Embedded gets more and more traction, we think it's time to regroup all available material so that partners and customers become more familiar with the Standard version and how they can understand when and how to position BPC Embedded.
One entry point / two tracks / many bloggers
To provide a 360° view, I've asked a set of experts to share their knowledge on BPC Embedded through two tracks:
A Strategic/Functional track which will focus on the business aspects and detail the strategy of BPC Embedded.
A Technical track which will give detailed insights and "how-to" implement BPC Embedded.
Both tracks started in the fall of 2016, and you can expect to read about topics as diverse BW, S/4HANA, budgeting processes, migration paths, and much more!
Resources
After each new blog post, I will update this article by adding links so that you have a single entry point to the whole series.
Strategic track
Technical track
Embedded model positioning, from Kirk Anderson, VP EPM Solution Management
Solving the planners dilemma, from Uwe Fischer, head of BPC development
Combining the 2 worlds of BPC standard and BW, from Frank Klingl, head of planning engines development
Business challenges the embedded model addresses, from Kirk Anderson, VP EPM Solution Management
How to set up a budgeting process, from Gerd Schoeffl, planning expert
Planning comes home, from Thorsten Jopp, EPM global center of excellence expert
How to Extend BPC 10.1 NW Web UI and How to Customize BPC 10.1 NW Web UI Theme from Gavin Du, BPC product manager
SAP BPC Embedded implementation real cases – part I from Julien Dyon, Regional Implementation Group BPC expert
SAP BPC embedded implementation real cases – part II
Tranfer local plan data to global InfoProviders from Gerd Schoeffl, BW planning expert
Unifying BPC NW and BW-IP from Uwe Fischer, head of BPC development
How to efficiently realize a rolling forecast scenario from Gerd Schoeffl, BW planning expert
An introduction to Planning, from Detlef Wassmuth, BPC product manager
How to validate your data, from Gerd Schoeffl, BW planning expert
Planning as part of BW, from Detlef Wassmuth, BPC product manager

Articles coming soon!

BW & HANA DW
Why to move from BW IP to BPC
Office client strategy
Outside in view from Column5

Articles coming soon!


Data validation
Keyfigures
YTD
focus on consolidation
sizing

The SAP Community is all about sharing knowledge, we expect you to ask questions, recommend topics you would like us to cover and provide feedback.
Looking forward to reading your comments… and stay tuned!
WEBCAST ON-DEMAND: SAP BW-IP, SAP BPC NW 10.1 Standard & Embedded Compared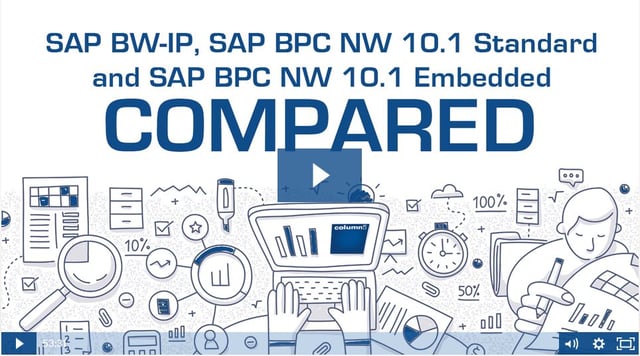 This session will explore the comparison of BW-IP, BPC NW 10.1 Standard and BPC NW 10.1 Embedded. Each of these products is currently offered by SAP as planning solutions, but each has characteristics and functionality which will influence the decision to use one rather than another. This session aims to clarify the differences between each of the products and aid in the decision as to which of them to implement. Each product will be better suited to a given company's needs according to certain criteria, and this discussion will set out to identify which product is best in each case.
Related Articles:
SAP BW-IP, SAP BPC NW 10.1 Standard and SAP BPC NW 10.1 Embedded Compared
SAP Community Post: BPC Classic vs. BPC Optimized Comparison Matrix
---
Author Bio:
Eric Fenollosa is the Chief Product Expert at SAP France. He has been with SAP for over 7 years but has over 20 years' experience in software development.