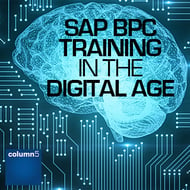 It's obvious. We are constantly bombarded with alerts, texts, emails, and ads every single day. In fact, you probably received an e-mail or two as you read that last sentence. We have grown used to accessing information whenever and wherever we need to – from the moment we wake up and start scrolling through new emails and checking the weather while brushing our teeth to reading the latest headlines while standing in line at Starbucks (and then quickly refreshing our Instagram feed to see how many new likes we got on our latest post.) We are all used to interacting with and consuming information in a shorter timeframe. Believe it or not, the same is true for how we want to learn. Whether that's Googling how to cook a hard-boiled egg, or watching a quick YouTube on publishing a set of books in BPC – we want to learn it, and we want to learn it NOW!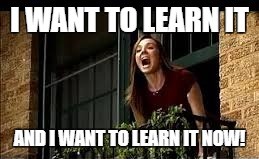 The Challenges
We can all admit that our attention spans are becoming more and more…limited. As a trainer, I am constantly challenged with short attention spans in a formal classroom-style setting. And while I have my own tricks to grab and keep students' attention (*unplugs Wi-Fi router*), it's entirely different to engage student who take more informal training options, like eLearning.
For example, you find yourself going through a unit in the course, then suddenly you remember you need to respond an e-mail. Then, a co-worker messages you on Skype about cake being served in the break room. Wait, what was the score of the Cubs game last night? Pretty soon, you find yourself starting the unit all over again.
We also face the challenge of memory retention. What happens after training is complete? We can only absorb so much information at one time. And as time goes on, how much of that information can we recall?
Ever hear of the Forgetting Curve? In 1885, Hermann Ebbinghaus conducted a memory experiment and developed a formula for how long items remain in our memory.

The good news? A nice graph was developed. The bad news? It is a pretty steep curve. In fact, over the course of 30 days we forget close to 80% of what we learn! Of course, there are several factors that may play into this, including the material's difficulty, its presentation, and other factors like stress or sleep. Generally, after we learn something new, our ability to retain that information declines over time unless we review it repeatedly.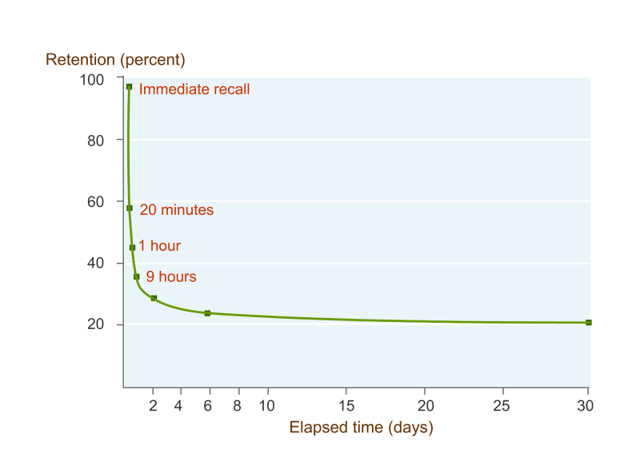 The Solution?
So, what should we do? How can we flip this "Forgetting Curve" into a "Retention Curve?" How can we account for our shortened attention spans, while ensuring that we're getting the most out of our training experience?
Let me introduce you to Column5's newest training option – bite-sized videos.
We get it – you may have a simple question on a particular BPC topic or process, but you don't want to ask your co-worker another question, or spend hours researching an answer online.
Colum5's bite-sized videos are a unique delivery method, designed to give clients cost-effective BPC self-sufficiency. These on-demand videos provide an extremely effective mechanism for teaching new staff your BPC processes and systems, while addressing revision and reinforcement training.
Why Bite-Sized Videos?
Attention Spans

Addresses learner's shorter attention spans by limiting these "nuggets" of information to under five minutes

Just-In-Time Learning

Videos are available right when learners need them, providing instant gratification

Accessibility

Built for on-the-move learning lifestyles. Videos can be accessed and watched from any type of device, including smart phones and tablets

Affordability

Videos can be created and developed quickly, helping to reduce training costs

Wide Application Use

Videos can be used as standalone assets, or can be part of a series of courses

High Impact

Designed to meet a narrow, but specific, learning outcome
Want to learn more about how bite-sized videos can enhance your organization's learning outcomes? Click here to watch a 60 second clip on our Bite-Sized video offering!
More EPM Content You Might Like:
Column5 eLearning to the Rescue!
What Exactly is "Customized eLearning" and Why Do BPC Users Want It?
Get the Most Out of Your BPC Training with Column5's EPM Academy
EPM & BPC Training: Addressing the Needs of Adult Learners
EPM Training: From Strategy to Execution
---

Author Bio:
Adam Hess is on Column5's SAP EPM Curriculum Developer and Trainer. With over a 100+ classroom deliveries, Adam knows how to design, develop, and deliver live and virtual classroom environments. His current training and eLearning development expertise includes SAP BusinessObjects Planning and Consolidation 10 and 10.1 (Reporting and Administration) for both Microsoft and NetWeaver versions. He has been with Column5 since 2014.