Maximizing the value of your EPM BPC Implementation
The Need for Change
The Finance function is central to the successful operation of any organization. Finance organizations are not immune to today's pressure faced by businesses to reduce costs of business transactions while improving processes in alignment with the overall strategy and direction for the organization. Faced with the demand to increase their role in the EPM lifecycle, Finance functions are moving away from a transactional data management focus to becoming deliberate business partners by providing assistance to the CEO and the organization in the development of strategic direction and key business decisions.
Business Partnering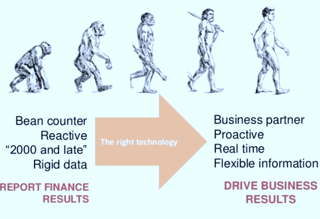 Today, finance employees need to integrate across the business lines to help design and execute business strategy. The vision for Finance Organizations is to mature beyond the present state to the point that their Business Partners view the Finance Team as a value-add function with a broader focus beyond manual input, transactional processing and report creation. Business Partners can be counted upon to have efficient, automated processes to spending more time on forward looking, what if analysis versus rear view mirror, often too little too late, course corrections.
Related Content: New Features of SAP Financial Information Management - EPM10
Assess Your Organization, Processes and Tools
When evaluating where your organization may fall on an EPM Maturity Model, consider these key attributes: Process Definition and Efficiency, System Maturity and Integration, Data Structures, Decision Making Capabilities and Change Management. The model below provides a summary view of typical attributes we see across many Finance Organizations as they are moving from the left to the right on the overall maturity continuum.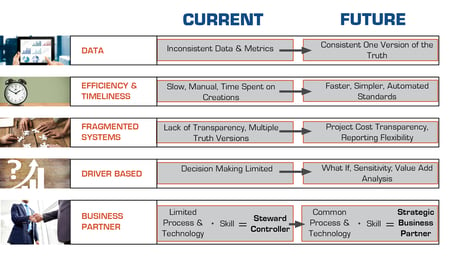 Column5 provides exclusive, comprehensive EPM Assessment processes. We utilize a collaborative, structured approach with a focus on strategic vision, processes as well as a functional and technical review of your existing SAP BPC Implementation.

The demands of business have changed, and finance functions need to keep up. That means taking a more proactive role, being viewed within your organization as a Strategic Business Partner, providing the Finance Team with the skills, knowledge and tools needed to make forward looking, business decisions acting as partners to the business. What is your company doing to meet these challenges and position the Finance Organization as a strategic business partner?
For more information on Column5 and our EPM Assessment Services please contact us directly.
Read More by Connie Folk:
Blog Post: Why EPM Checklists, Methodologies, and Fast Start Templates Ensure Success
Blog Post: The Inconvenient Truths About Organizational Change Management
Blog Post: Make Your EPM Project Successful By Investing in the Change!
More Information on Column5 Program Management
---

Author Bio:
Connie Folk is the Global Director, Program Management Office (PMO) at Column5 Consulting. Connie has over twenty years' experience leading EPM projects and transforming organizations through the use of quality practices, business process re-engineering and strategy execution. She has extensive experience in a variety of Agile and Waterfall project management methodologies including SAP ASAP. She is a certified Lean Six Sigma Black Belt and a certified Organizational Change Management Professional.
Connie Folk, Global Director Program Management Office
Office: +1.800.360.7839x775
Direct: +1. (480) 779-6975