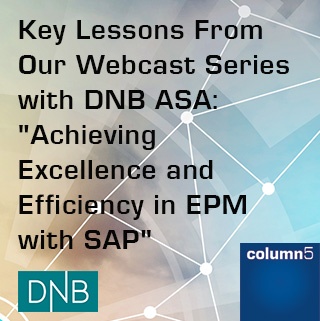 During November and December, Column5, in conjunction with our client DNB, three interesting and informative webcasts ran on the exciting and rewarding journey taken by DNB ASA, Norway's largest financial services group.
This series of webcasts focused on the following specific and important elements of Enterprise Performance Management:
Financial Consolidation for Statutory and Regulatory Reporting
Intercompany Reconciliation
The Last Mile of Financial Reporting
Each topic was underpinned by informing the attendees how SAP EPM solutions help companies achieve excellence and efficiency based on this real life DNB example.
Column5 and our EPMi partners have been engaged at DNB since 2013 as part of a finance transformation and fast close program of which technology has been an important enabler alongside process change.
After thorough evaluations of competing software, DNB procured the entire EPM reporting stack (Office for Finance) from SAP which comprises the following applications:
SAP BusinessObjects Financial Consolidation (BFC)
SAP Intercompany
SAP Financial Information Management (FIM)
SAP Cube Designer
SAP Disclosure Management
SAP Business Planning & Consolidation (to support corporate planning needs)
SAP was the vendor of choice based on the evaluation of functional and technical requirements, vendor assessment, price and contract terms.
SAP EPM was perceived as the strongest solution on functionality with regard to solution architecture, consolidation and calculation functionality, disclosure management and regulatory reporting.
Alongside the strong functionality considerations, as DNB were not an existing SAP customer at the outset of the project it was important that software integrated with third party platforms, infrastructure and systems.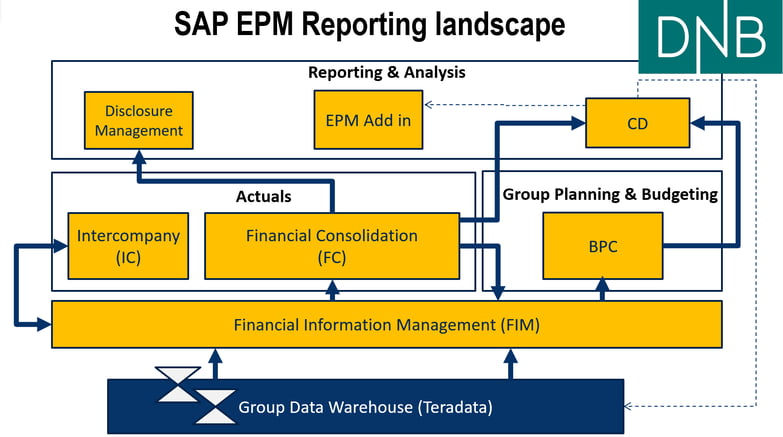 Column5 and EPMi have been responsible for the functional implementation of the SAP application stack, translating business requirements into a solution landscape based on best practice design and configuration methodology.
The solution implemented at DNB is a fully customised environment based on DNB's complex internal, external and regulatory reporting requirements.
Some of the headline successes at DNB have included:
Re-designed the process for Financial Close
Created integrated data delivery from all reporting units
Implemented peer-to-peer intercompany reconciliation process
Created a sngle data source for regulatory and internal reporting
Dramatically reduced the need for manual corrections
Significantly increased automation in monthly, quarterly and annual report production
Increased data granularity to support additional analysis and support decision making
Increased data quality in financial reporting.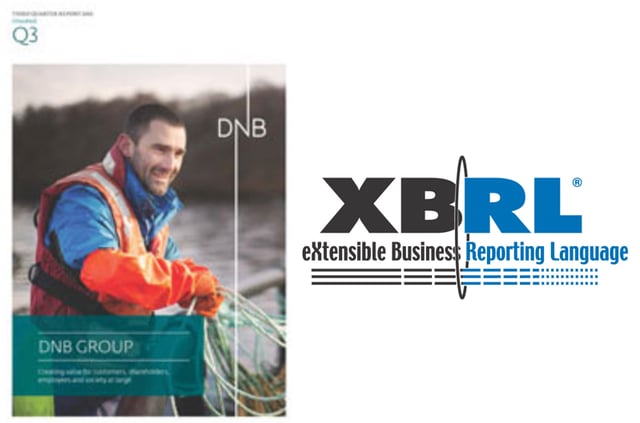 SAP Disclosure Management tool was the first system to go live at DNB, initially to produce the Group Quarterly Reports. The successful adoption of the tool lead to its rollout to another 3 entities (plus more in the planning!) plus automation of XBRL instances for regulatory reporting.
SAP BusinessObjects Financial Consolidation (BFC) and Intercompany Reconciliation were subsequently rolled out to support the IFRS external and internal management initially then extended to cover quarterly disclosures. Subsequent phases introduced FINREP (European Banks Regulatory Reporting), IFRS Annual disclosures and COREP reporting for the European Banking Authority.
Key characteristics of DNB's significantly improved close and consolidation process which are now supported by their BFC solution are:
Integrated and automated data model and collection process to support both statutory external, internal and regulatory reporting
Data collected by legal entity/branch
All SAP functionality sits on top of third party infrastructure
Automated report production through to Disclosure Management
Enhanced analysis and reporting to give greater insight delivered through standard SAP BFC reporting tools
Also, SAP Intercompany supports peer to peer reconciliation in real time – a sea change in the DNB process compared to the previously centralised and labour intense method of managing inter group matching. Whereas before Group Finance had to manage different time zones, currencies, source systems in an Excel environment SAP Intercompany allows the reporting units to become responsible for reconciliation much earlier in the close time cycle.
SAP Intercompany provides DNB an integrated platform to collect data, reconcile intercompany, freeze the accounts and transfer amounts that have to be eliminated to the consolidation module.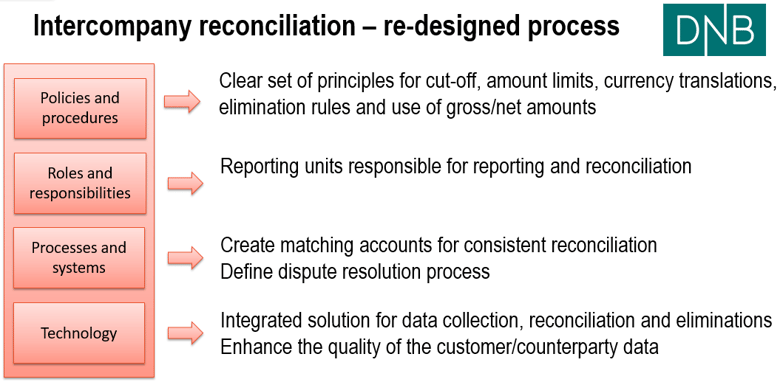 The mission of implementing the new SAP EPM solutions at DNB has been very successful and we are proud to have worked with DNB and our EPMi partners on this exciting and rewarding project. We were pleased to be joined by Karina Folvik, Head of Reporting & Consolidation at DNB for our webcast series and I will close the blog with a comment she made about the impact of this project:
"Implementing SAP was a considerable shift in the technological platform at DNB which enabled us to re-design our Financial Close process and address the gaps in policies, roles and responsibilities while allowing us to focus on value-added tasks. Thanks to SAP EPM we were able to increase automation in the production of monthly, quarterly and annual reporting for an internal and external audience, reduce our manual corrections and increase data quality in financial reporting. These gains allow us to quickly adjust reporting and analysis to new requirements. Despite the challenges of a project this size and complexity it has been a great success and we are thankful to our implementation partners for their contribution."
Other exciting and informative case studies like this will be presented at the upcoming EMEA EPM Summit, held in London 19-20 June. Click below to see what companies will be sharing their stories!
Related Articles:
Introduction to SAP Disclosure Management
A Great Financial Consolidation Solution for Statutory and Regulatory Reporting in Complex Multinational Organisations
Adding Value Through the Consolidation Process - Part One
Author Bio:

Paul Coleman specializes in the SAP EPM 10.0 suite of applications, comprising BusinessObject Financial Consolidation BFC), Intercompany, FIM and Disclosure Management. Paul is capable of delivering applicatino expertise as lead consultant to multinational clients. Paul is certified in SAP BFC 10 (BusinessObjects Financial Consolidation 10.0 inc., FIM, Cube Designer).