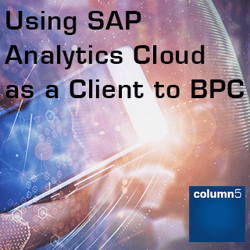 SAP Analytics Cloud (SAC) is delivered as a SaaS (Software as a Service) solution on the SAP HANA Cloud Platform. SAC combines multiple EPM, BI and Analytics features/benefits into one product. This allows users to plan with robust collaboration features while using Predictive Analytics as well as Business Intelligence, and robust, state of the art Analytics. Currently, SAP BPC remains the default approach for Enterprise-wide Planning, Forecasting and Consolidations, while SAP Analytics Cloud fulfills relatively straightforward requirements from a planning and forecasting perspective.
There are specific use cases where SAC can be used for department-level planning, budgeting and forecasting. The primary benefit to BPC customers is that SAC can be used in conjunction with BPC at any level (Enterprise or Department) to provide a complete EPM and Analytics solution for your organization.
We will explore two primary use cases where SAC can be used to complement BPC and extend value to your organization. The main audience for this topic includes current BPC users or customers who are in the process of evaluating BPC and are also considering needs for BI and Analytics.
Use Case 1: SAC as a Client to BPC
From the inception of SAC, there has been integration with BPC allowing users to connect directly to on-prem BPC environments and import master data (dimensions) and data into an SAC Model. Recent enhancements to SAC provide real-time integration with BPC, meaning that SAC can be used as a client to BPC (SAC v 2017.10).
From within an SAC Story, while working in a Table, the Version Management panel now contains functionality to synchronize versions (Actual, Budget, Forecast) with BPC. Users can see when the last synchronization/refresh occurred and can either refresh content FROM BPC or save/update data TO BPC on-demand.
As part of a BPC Business Process Flow, a user can select a step that reads "Run Predictive Forecast." The hyperlink in the BPF takes the user to SAC where they can use Predictive Analytics to modify forecast data that is based on historical information that has been synchronized from BPC. After finalizing the forecast in SAC, the user can save/update the data to BPC from the Version Management Panel, where they have the option of using the robust EPM Add-in to work with the data in Excel, Word, and/or PowerPoint.
The opposite of this use case is also true - BPC can be used as a Client to SAC. The easiest way to envision this scenario is having a robust input form/template in the EPM Add-in. The template provides a great deal of user information with data validation and comments. The analyst can perform additional calculations using a combination of the logic/business rules in BPC, the EPM functions in Excel, as well as the thousands of functions natively available in Excel. In this scenario the data can be synchronized with either the native integration and built in scheduler, or it can be synchronized on demand for the specific Category/Version that has just been updated. Then the user can visualize the data in SAC and take advantage of Smart Discoveries (Machine Learning) to gain additional insights into the data and discover new correlations.
Another key benefit with SAC includes the Digital Boardroom which can bring BPC data to life along with other data that is vital to your business. SAP Digital Boardroom is an application embedded within SAC designed to transform the boardroom experience with three large, interactive, touch-screen panels. The SAP Digital Boardroom is based on three main themes:
Total Transparency – a 360-degree view of your business being able to drill down from summary level down to transaction-level detail;
Instant Data Driven Insights – provides the ability to answer ad-hoc questions on the fly and perform scenario analysis, simulating the impact of various decisions;
Simplified steering meetings – allows you to transform the meeting experience while reducing the time and effort that it takes to prepare. SAP provides predefined templates that have industry and line of business best practices built into them. While the SAP Digital Boardroom was designed to be displayed with three large touch-screen panels, the information can also be displayed and consumed on a single monitor.
Use Case 2: Read Only from BPC
The second use case involves using BPC data in a read-only mode. In this example, BPC can be used for the Financial Consolidation, closing the books and producing the Financial Statements including the P&L, Balance Sheet, and Cash Flow. This scenario will keep BPC as the 'Book of Record' for the financial information and provide access to the rich features and benefits of SAC in a read-only mode.
Another key benefit of SAC is the ability to combine data from other sources, both internal and external to the company. SAC has out of the box integration with SAP Cloud sources such as Concur, Fieldglass, SuccessFactors, and SAP Hybris Cloud for Customer, as well as the ability to connect with non-SAP apps and cloud sources, such as SalesForce and OData Services. SAC can also connect with various on-prem data sources.
Another variation of this scenario could allow SAC to access the BPC Model(s) in read-only, while allowing you to combine the data with other models that could be read-write for Sales, HR, and/or Data from your Operations.
Summary
We are very excited about the combination of BPC and SAC with this new integration functionality and we are looking forward to more interoperability between both solutions.
We encourage you to reach out to Column5 for a EPM / Analytics Workshop where we can demonstrate the detailed features of SAP Analytics Cloud along with the SAP Digital Boardroom. We can also demo/discuss configuration options and what combination would best fulfill your business requirements.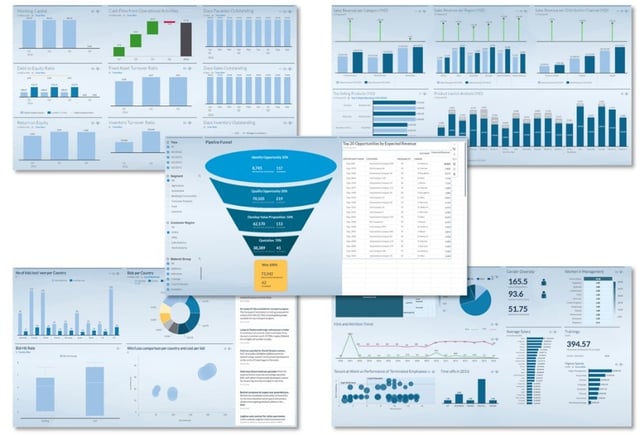 On-Demand Webinar
Using SAP Analytics Cloud as a Client to BPC
Related Articles:
Upgrading from SAP BPC Standard to SAP BPC Embedded – Everything You Need to Know
Integrated Planning with SAP BPC 10.1 Standard
EPM Maturity Model - What is it?
EPM Maturity Model - How do I use it?
3 Steps to Ensure Projects are Delivering EPM Value
Introduction to SAP Disclosure Management
---
Author Bio:
Steve Sussman oversees Column5´s global sales, business development and marketing initiatives. He has more than 20 years of experience in the EPM industry, including 6 years at Hyperion and over 5 years at OutlookSoft/SAP in sales and marketing related roles.

Steve delivers a wealth of experience through his highly educational, consultative approach. His unique ability to partner with visionary executives from a who´s who of leading global organizations has played a vital role in helping them transform their companies to achieve new heights. Under Steve´s direction, Column5´s sales team focuses on educating clients to appreciate sources of value, rather than strictly emphasizing technical specifications. In this way, Steve´s contributions reach far beyond sales — he has served as a career counselor and collaborator for many company leaders, and helped them achieve personal advancement by driving business results from their successful EPM initiatives.
Steve Sussman, Vice President, Marketing and Sales, Column5 Consulting US team