Language customisation of SAP BPC for NetWeaver can be wrongly viewed as a challenge and an unnecessary effort. There are obvious advantages to presenting the software and the models in the user's mother tongue. Although some customising needs to be done in the areas laid out below, the time spent is not excessive, and should be amply rewarded by improved accessibility for your international users.
Column5 is currently carrying out an implementation using SAP BPC 10.1 NW in Arabic for a major Middle Eastern bank. We believe this is the first full implementation in Arabic so we would like to share some of the insights regarding language localization.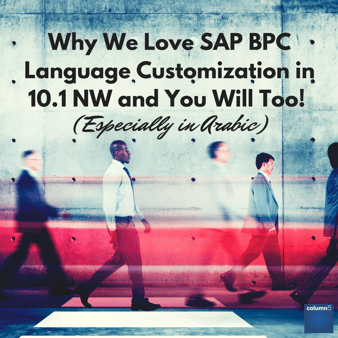 Five main areas need to be customised:

1. Default user language in BW
2. BPC Web Interface
3. BW Smartforms

4. Dimension member descriptions
5. EPM Add-in
Note that reports and input forms are not listed. These items will pick up the language specified by the customisations above. The proper way to configure BPC for multilingual usage is to enable users all over the world to use the same reports and input forms, viewed in their own language.
1. Default user language in BW
To change a user's default language in BW, the zcsa/system language parameter in that user's instance profile has to be set to the two digit ISO language code. (For example, EN for English, AR for Arabic, DE for German, etc). The user instance profile can be accessed through the SU01 transaction in the SAP GUI.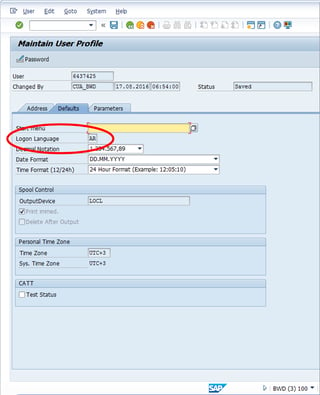 2. BPC Web Interface
Once the user's log-on language has been changed in BW, they will automatically see their new default language when they log-on to the BPC web interface. In the case of Arabic, and other languages that read from right to left, the view of the web interface and text justification is changed to right to left.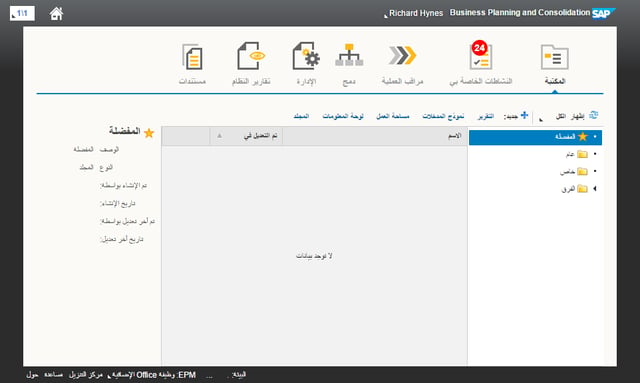 In the interface, where the user is asked to create and name objects and give them descriptions, it is possible to use any language. In the example below, Business Process Flow instances have been created with both English and Arabic names and descriptions. Note that the model and dimension names were set up in English in this example, and accordingly will also read right to left with the Arabic interface configuration.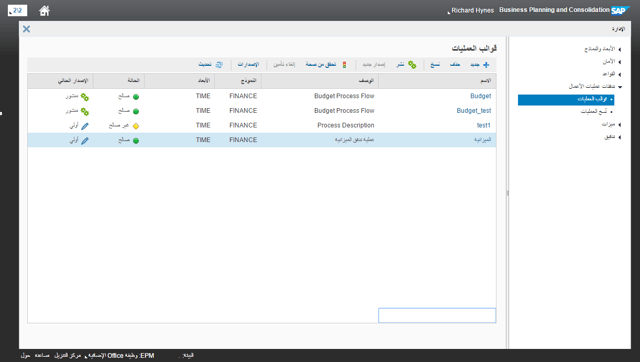 3. Smartforms
To set up the notification emails in a different language, the text of the default mails needs to be modified in the SMARTFORMS transaction in the SAP GUI.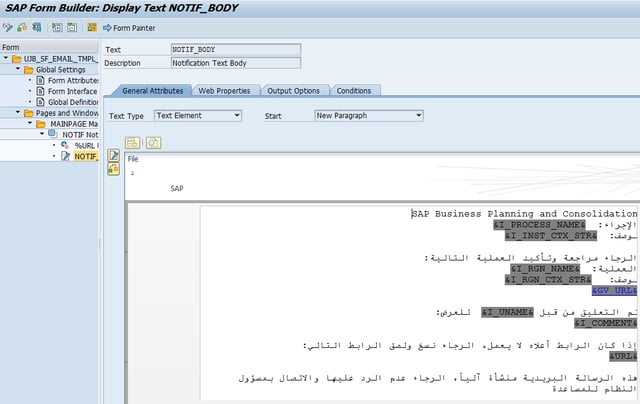 When logging in to the SAP GUI in Arabic, the smartform will automatically be created in the default logon- language. By adding / installing Arabic in the windows OS, a user choose to use Arabic as the default or selected keyboard language. This will allow typing of characters in Arabic with no need to use copy and paste.
The language displayed in the member description fields may be selected by choosing the 'Translate into Selected Languages' option and selecting the language(s) needed.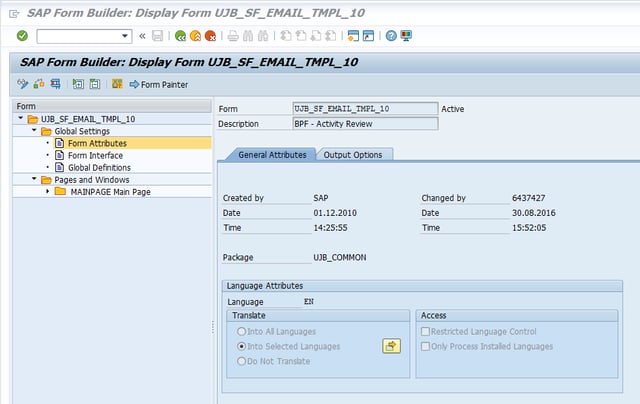 If the user's default language is set to one of the languages chosen, that user will see the member description fields in that language.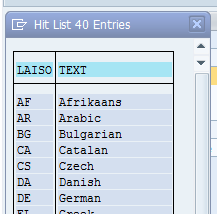 4. Dimension member descriptions
The feature that drives language customisation of reports and input schedules is the member description field in the dimension administration interface. When the user is logged on with their default language set to Arabic (for example) the description field value is what will be shown in reports and input forms.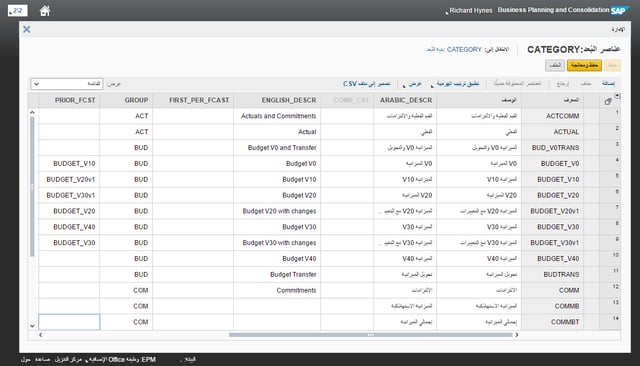 When the user logs on to the same dimension with English as the default language, the description field is available to show an English description. English will then be displayed in reports and input forms for users whose default language is English.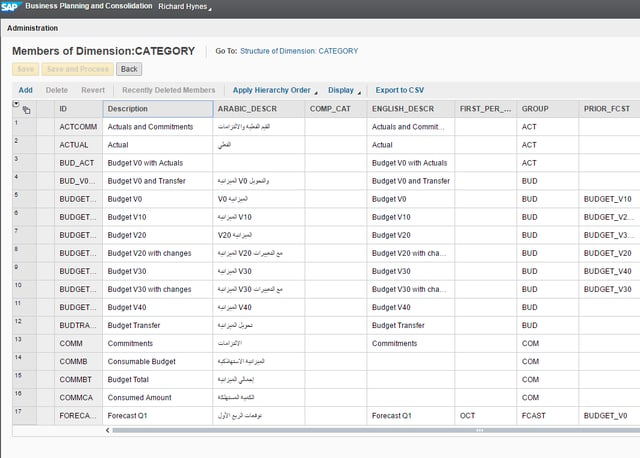 Related Content: 6 Commonly Asked Questions About the EPM Add-in Excel Client
5. EPM Add-in
The EPM Add-in is available in a large choice of languages including Arabic, Chinese and Japanese through the Display tab of the Options -> User Options dialogue screen.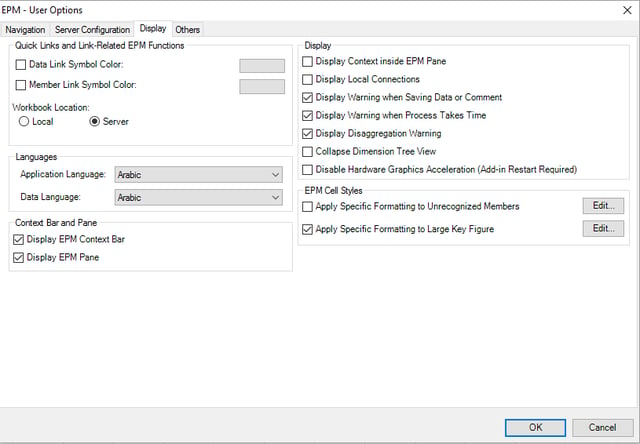 By using all the above-mentioned options, it is possible to localise an installation of SAP BPC 10.1 NW. This makes for a more user-friendly experience for international BPC users.
For more information on language customisation in BPC, don't hesitate to get in touch with the Column5 experts.
Here's more content you may be interested in:
Blog: SAP BW-IP, SAP BPC NW 10.1 Standard and SAP BPC NW 10.1 Embedded Compared
Blog: Integrated Planning with SAP BPC 10.1 Standard
Webcast: Taking your HR Planning & Forecasting to the Next Level with DarwinHCM and Business Planning and Consolidation
---
Author Bio:
Richard Hynes has been with Column5 Consulting as a Senior Consultant since 2014 and is one of our most popular bloggers, and is also a published author in print with technical books on Microsoft Excel and Database Programming with .NET. He is a trilingual BI professional with a double competency in Finance and IT. Hynes works on the UK team and works with various clients in EMEA.
Richard Hynes, Senior Consultant, UK Team