Our Technical Services team has received an influx of service tickets regarding issues with the recently released SAP BPC EPM Add-in Service Pack 29.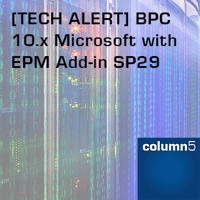 Problem
With EPM Add-in SP29 installed, we noticed that none of the built-in reports or report templates are working when trying to refresh with BPC 10.1 Microsoft (MS). When attempting to refresh, it keeps prompting to login to SAP NetWeaver (NW) system, instead of BPC 10.1 Microsoft. Please see example below:
ldcie3f.wdf.sap.corp EPMAddin_ODBOSP3 Consolidation
We are connected to the Planning model for BPC MS but it is trying to login to BPC NW Consolidation.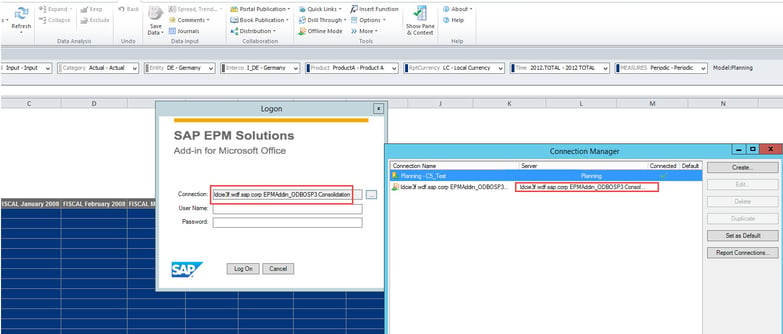 Resolution
To correct this issue, we must change EPM Add-in parameters as follows:
Close any open Excel files
Locate XML file and open in notepad. (in C:\Users\<YourID>\AppData\Local\EPMOfficeClient)
At very bottom of file change key <ForceDoNotStoreConnection>false</ForceDoNotStoreConnection> to <ForceDoNotStoreConnection>true</ForceDoNotStoreConnection>
Save the file
Restart Excel and test again to open your template
SAP has been notified of this issue and we hope that they will implement a fix in the next release of the EPM Add-in.
Did you know that an Extended Support customer, you receive up to date alerts such as this as they happen? Contact us today to find out more about the different Extended Support options to assist with the technical support of your SAP BPC system! We also hold quarterly Technical Administration Training for both BPC Netweaver and Microsoft - check out this page for the dates and details of upcoming sessions!
Related Articles:
6 Commonly Asked Questions About the EPM Add-in Excel Client
SAP BW-IP, SAP BPC NW 10.1 Standard and SAP BPC NW 10.1 Embedded Compared
Troubleshooting Techniques for SAP BPC Reports Created w/ the EPM Add-in
5 Things You Can Do to Get the Best Performance from Your BPC MS 10/10.1 Server Environment, Part 2
---
Author Bio:
Darko Kavazovic has been a technical consultant for Column5 for almost 3 years. He has a wide range of experiences in development and delivery of SAP BI technologies. He speaks 3+ different languages and has exceptional understanding of SAP products. Before coming to Column5, he worked for Sysco Corp. with their SAP administration.
Darko Kavazovic, Technical Consultant, Column5 Consulting US team